Feminine WordPress themes can be a great way to showcase your content stylishly and professionally. They can also help to create a warm and inviting atmosphere for your visitors. So if you're looking for a way to give your website a more feminine touch, be sure to check out the many feminine WordPress themes available online.
The definition of what it means to be feminine has changed a bit in the last few years. What we are seeing is powerful and modern designs that are often considered feminine, and the boundaries between what is considered feminine and what is masculine are blurred. Even if gender roles have changed, most people still see fashion and tag it as feminine. Many bloggers have been searching for a more girly take on their websites.
Why? You can show that important topics such as fashion, travel, lifestyle, and beauty are often better represented when they have feminine design elements. Blog creators must tell people about their personalities, and that can mean that they are a little feminine.
Because so many of those WordPress themes are all over the internet, we decided to pull together a solid list of our favorites. There are a large number of websites that have interesting blog post formats and tools that allow any kind of blog to be created. Therefore, it is not necessary to start blogging. For example, if you are interested in a theme that looks like it would be built for fashion.
So, without further ado, keep reading to learn more about the best theme that is feminine on the market.
1. Tribe – Feminine Coach WordPress Theme
The tribe is a very beautiful feminine WordPress theme.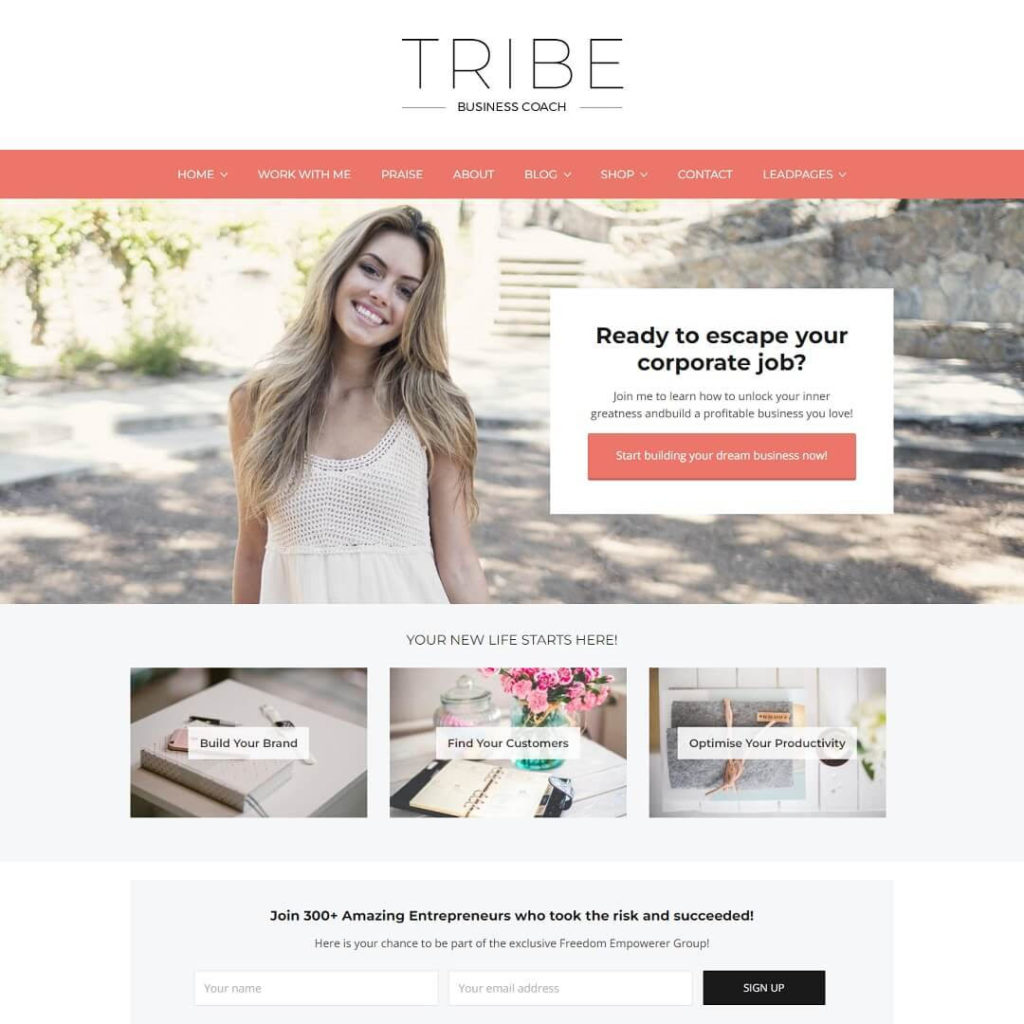 It was designed with female coaches in mind. This feminine WordPress theme is intended to help you convert more leads to customers via its attractive and strategically designed. This online tool enables you to effortlessly promote your services, and even sell your programs and ebooks. I am pleased with the integration with WooCommerce. You can quickly add an online store to your website and accept payments.
Tribe WordPress lifestyle blog theme also comes with a couple of different areas for you to insert your email opt-ins and promote your freebies to help you build your list. Do not forget to take advantage of the powerful blog page to share your knowledge, establish your authority, and build credibility by providing testimonials.
If you have a design or a visual theme, you can easily modify your fonts, colors, and other visual aspects. You can also create your page layouts by using a drag-and-drop page editor. Tribe feminine WordPress theme for coaches comes with a one-click demo import function so that you can start using your website as soon as possible. Fresh, feminine websites for coaches that are designed to look good on any device. The tribe has been carefully designed to allow you to create your professional coach website quickly and easily, with no coding knowledge.
Import our demo. In a few clicks, you can customize it according to your taste, and then you are ready for business! This website has been specially designed and tailored for female coaches. Here you will find the essential features to make your website a successful lead capture tool.
Item-based marketing with a beautiful and elegant design, social media buttons to grow your audience, opt-in forms to capture more leads, banner blocks to promote your products and services, and an about me section to introduce yourself and make it personal.
On top of that, tribe gives you full woo-commerce support for coaches, so that you can easily sell your services, courses, workshops, ebooks, and products on your website.
More info / Download
View Demo
2. CheerUp – Food, Blog & Magazine
CheeruUp is a new WordPress theme for female entrepreneurs.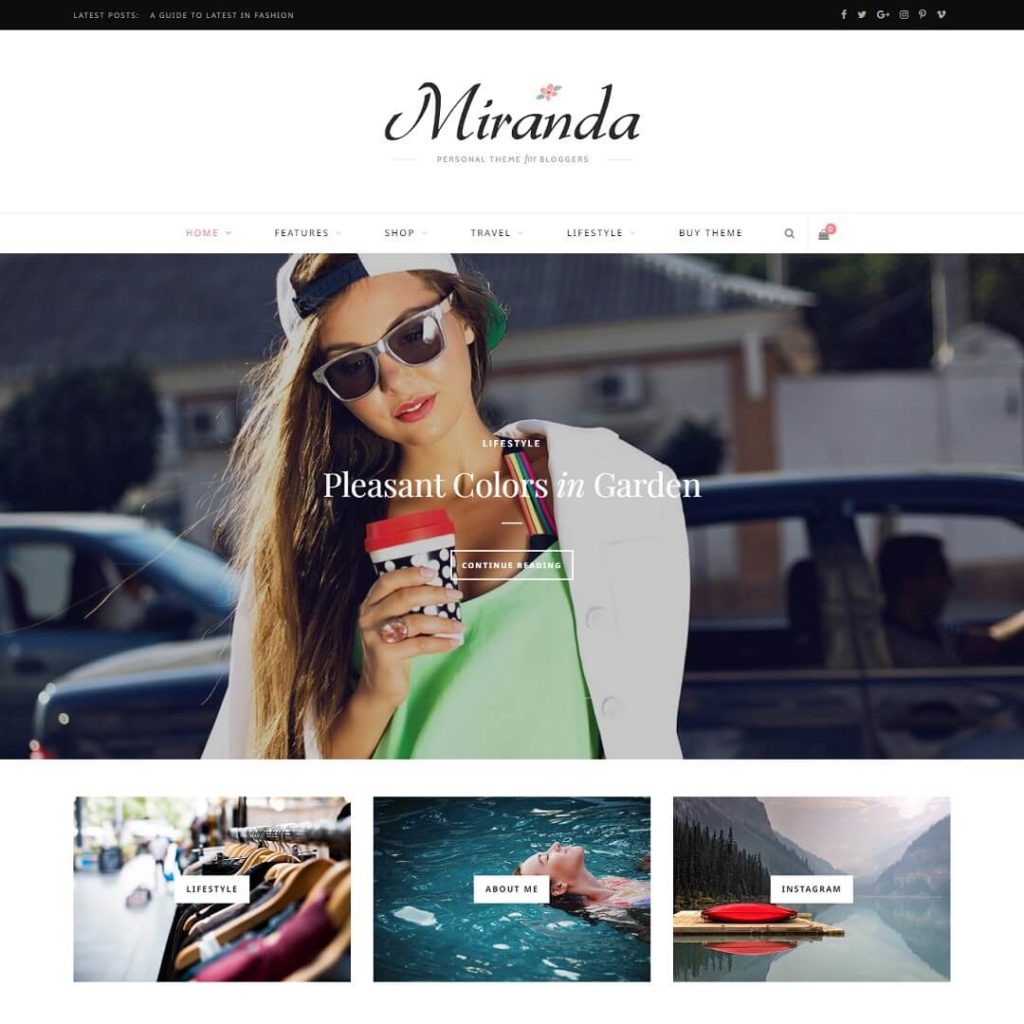 It is a creative solution to fulfill the needs of web administrators, who have any experience and are working anywhere in the world. When you use Chemup, creating visually engaging and visually impressive custom blog websites has never been easier.
This feminine WordPress theme for coaches is designed for blogs. It features a jaw-dropping array of beautiful demo websites and page templates. When it comes to customizing blogs, CheerUp truly shines. There are 1000+ unique blog layouts that you can use to express your thoughts. With that, your words are guaranteed to get the maximum exposure possible.
I urge you to start cheering today and to see your audience growing day by day! Should that happen, CheerUp WordPress lifestyle blog theme provides an abundance of attractive header, footer, post, and menu styling options. It lets you control everything.
More info / Download
View Demo
3. Buzz – Lifestyle Blog & Magazine WordPress Theme
Buzz is a superb feminine WordPress theme.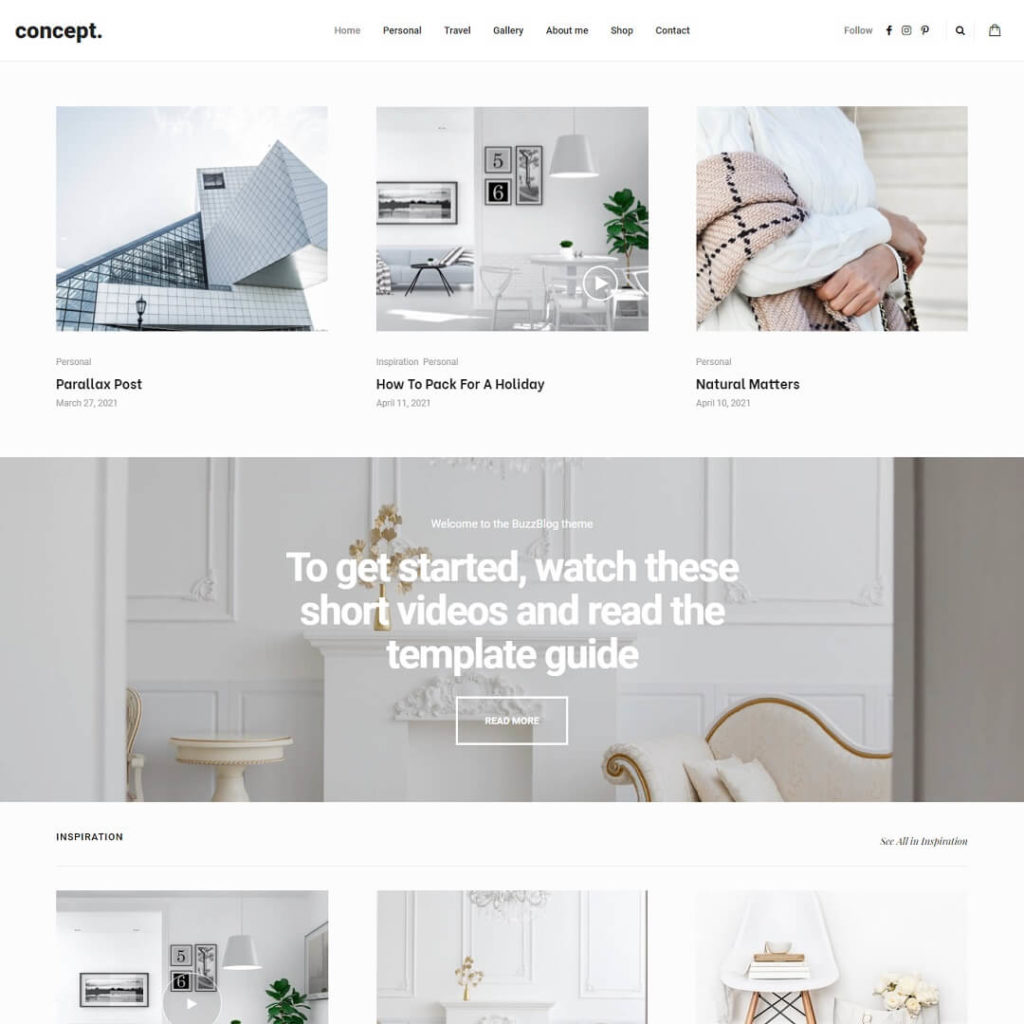 It includes full compatibility with Gutenberg. Besides, it has support for Google Fonts. There is also the Adobe Fonts integration. It contains more than 2000 homepage variations. Buzz feminine WordPress theme for coaches offers unlimited style support.
The header styler is awesome. It has 9 built-in header layouts. Moreover, this theme consists of 40 posts, and page layouts. The built-in categorized image gallery is superb. The gallery slideshow, gallery grid, link, image, quote, audio, and video make it simply fabulous.
Buzz WordPress lifestyle blog theme is also well-known for its powerful theme options panel. It has a unique built-in subscribe page and login page. It has an amazing mega menu as well. Its custom cookie banner makes it look stunning. It is also integrated with WooCommerce.
More info / Download
View Demo
4. Laurel – A WordPress Blog & Shop Theme
Laurel is a brilliant feminine WordPress theme.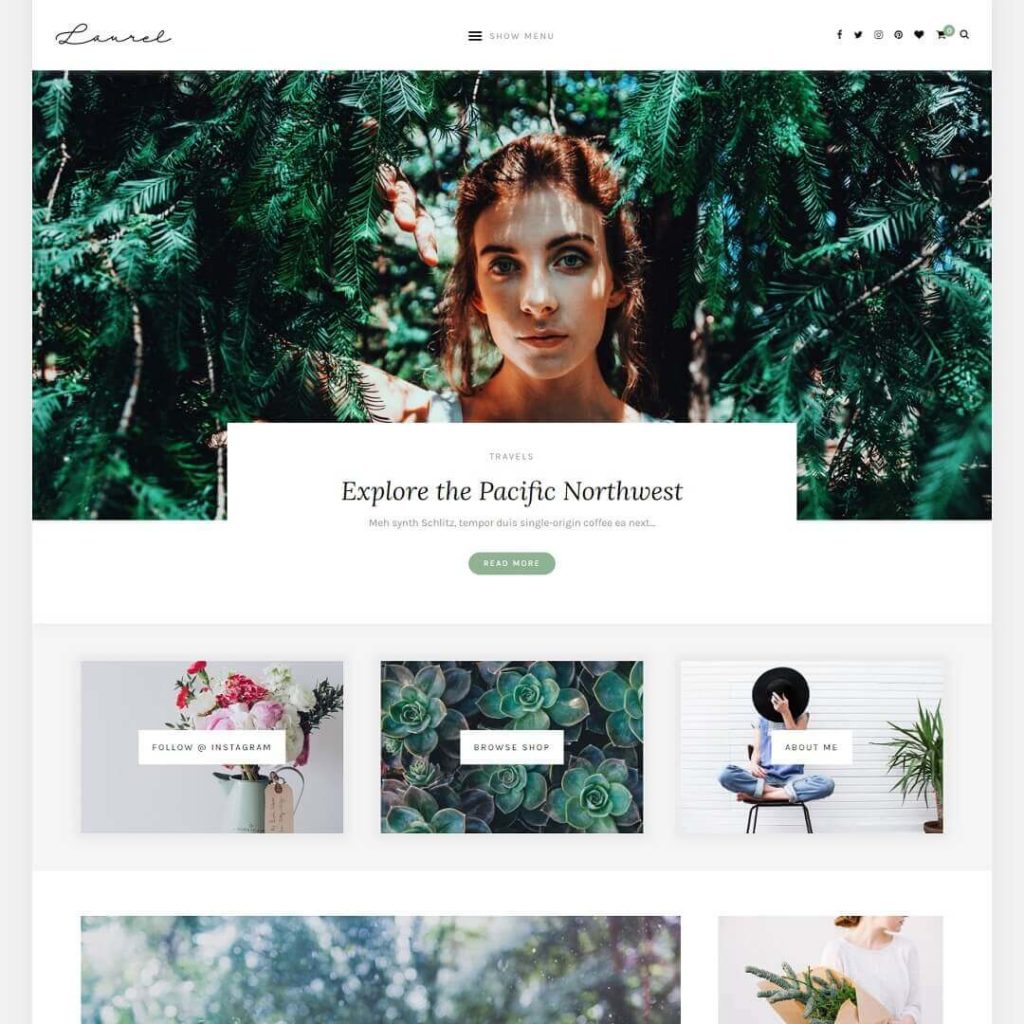 It is one of the latest Blog and Shop Themes from Solo Pine. Laurel is loaded with heaps of customization options to present your quality content in a crisp, modern elegance. Affect your posts with an attractive, full-width featured image, or stack some fully customizable promo widgets to create a vibrant, eye-catching sidebar display.
Better still, showcase all the posts that you create on any page in a polished grid layout using Laurel feminine WordPress theme for coaches as the shortcode for category indexing. Do you want to change up your posts a bit? Laurel also provides you with a wide variety of different layout options to choose from, post-by-post.
You are either a proud owner of a web shop or you are dreaming of taking that leap someday. We have got you covered! Laurel is fully compatible with WooCommerce, the most popular online shopping cart plugin.
As always, Laurel is backed by Solo Pine's top-notch customer service so that you are always at the right place, every step of the way.
More info / Download
View Demo
5. Aden – A WordPress Blog Theme
Aden is a stylish feminine WordPress theme.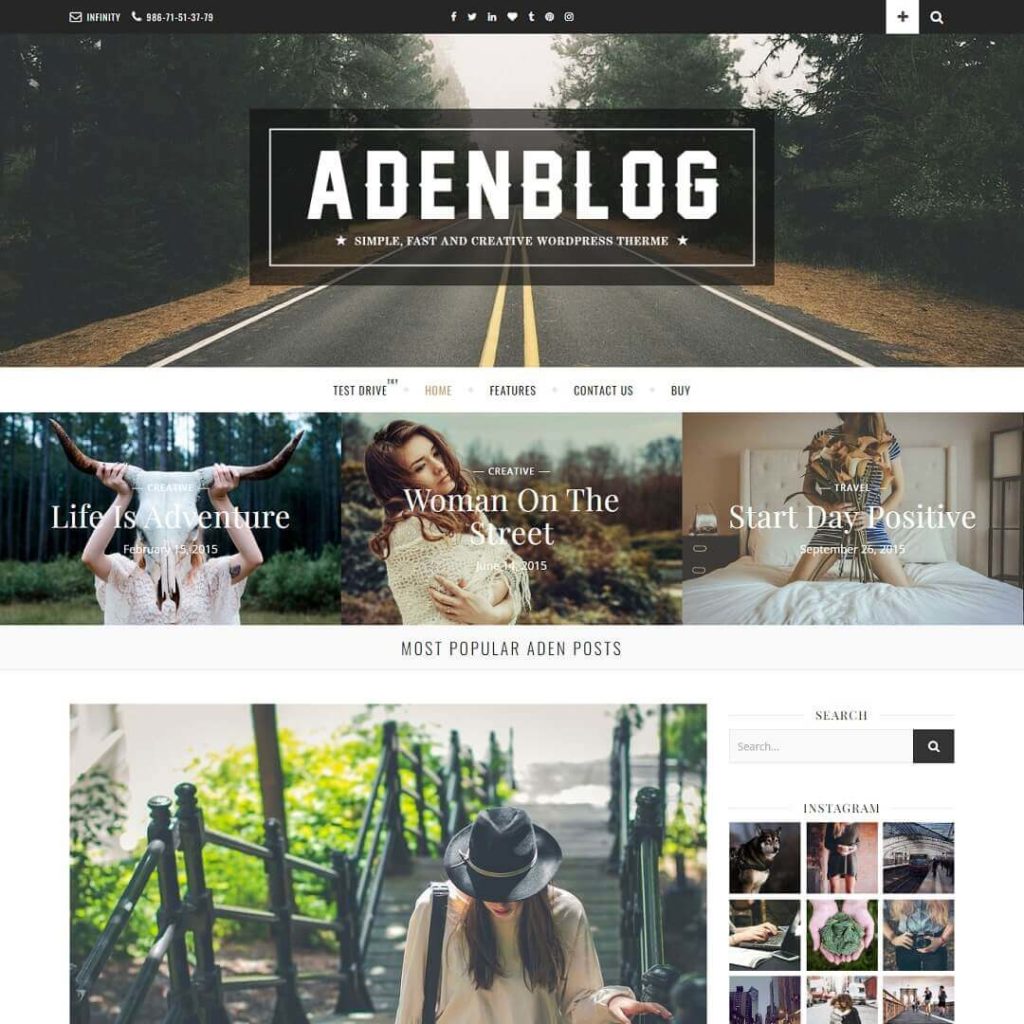 It is perfect for beginners who want to learn how to use WordPress and advanced users who want to use WordPress. It is also suitable for cleaner and more modern WordPress blog themes.
Aden is fully responsive. It is compatible with any size of the display, from smaller sizes to larger sizes. They are also supported by all modern browsers. With WordPress theme customizer, you can easily modify the template.
No more backend options – everything is in one place!
More info / Download
View Demo
6. SeaShell – Modern Responsive WordPress Blog Theme
Seashell is a professional WordPress blog theme.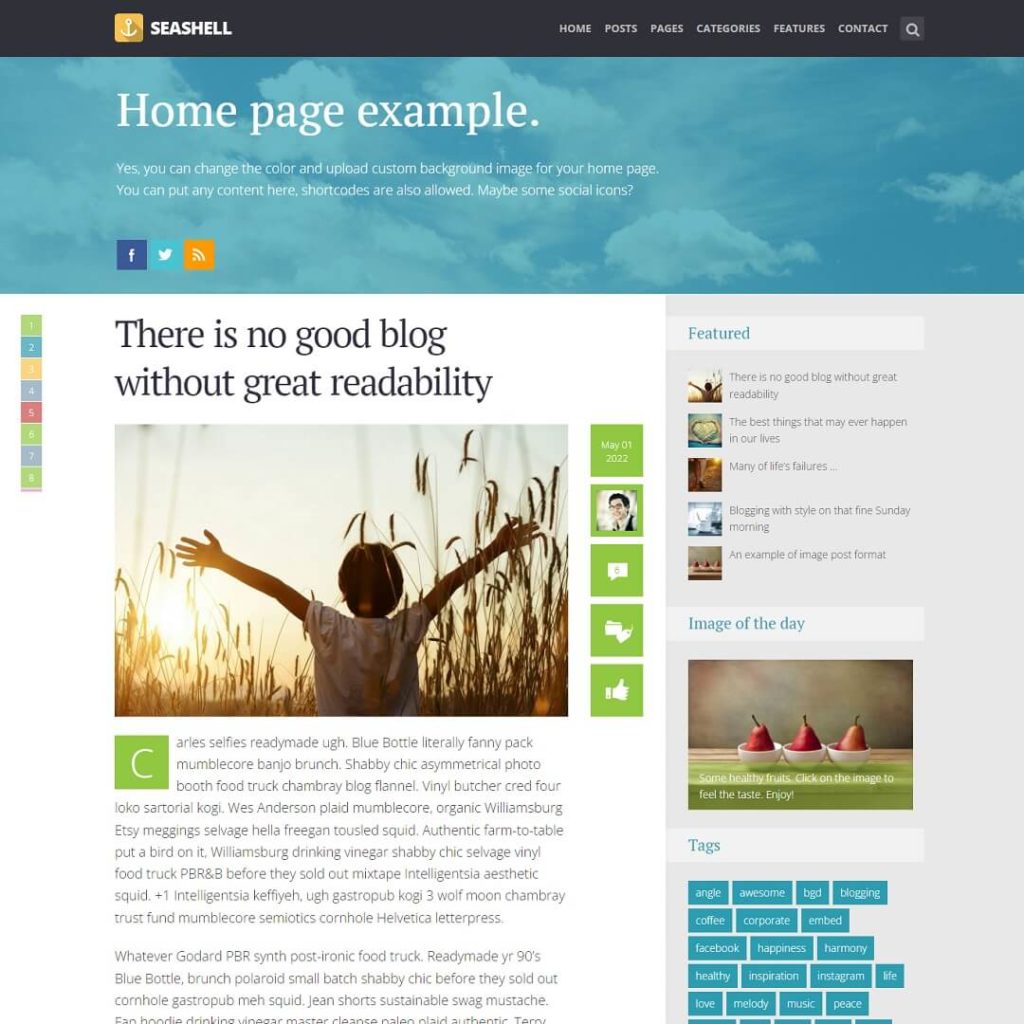 It is well-designed for responsive use, with good typography and an emphasis on readability. It is highly customizable, so it can be tailored to fit your taste. Color pickers are a quick and easy way to add a particular color to each post or page. Continue to blog, and make your most important stories stand out.
Each category should have a color scheme, a background image, and a sidebar. It is a great way of organizing your WordPress content. You can pick from several different types of blog page templates. On each blog page, you can choose the posts that belong to one or more categories. You can also set different layouts and styles for each category.
As you read, we have a sticky post navigation system that allows you to quickly jump to any post. Seashell WordPress lifestyle blog theme supports post formats that include video, audio, image, quote, gallery, and link posts. Popular WordPress embedding features like Facebook, Twitter, and Instagram are also supported. Choose whether you want to use icons for the date, author, comments, categories/tags, and sharing.
Then you can put the icons in the order that you want them. The content that you publish will be supported on all of today's modern devices, including desktops, laptops, tablets, and mobile phones. Seashell WordPress theme for female entrepreneurs interface also includes options for unlimited fonts and color combinations. There are also dedicated sections for uploading your logo and icons.
Seashell feminine WordPress theme lets you integrate social sharing functionality for your blog posts. Choose and reorder all the social networks that you want to use. Alongside the standard WordPress widgets, it also features several custom widgets that enable the user to extend the functionality of the app.
So you can add complex elements to your content easily. We can provide you with 12 shortcodes, including columns, highlights, dropcaps, buttons, pull quotes, progress bars, and social icons. You can have as many sidebars as you like, and you can attach those sidebars to specific posts or pages. I would like to widgetize the footer area.
You can easily change or translate any text on your website by using the theme options panel. You can also connect your website to the Envato official API so that you can receive notifications about upcoming updates through your admin dashboard. Each time a new version of Seashell is released, you can update it just like you would update any other theme on the official WordPress repository.
Learn how to set up Seashell fashion lifestyle WordPress theme, and all the features that are available, quickly and easily with our comprehensive documentation. All the demo content is included. So you will get a website that is similar to ours, ready to start tweaking it.
More info / Download
View Demo
7. Alder – A Responsive WordPress Blog Theme
Alder is a clean, bright, and classy WordPress theme.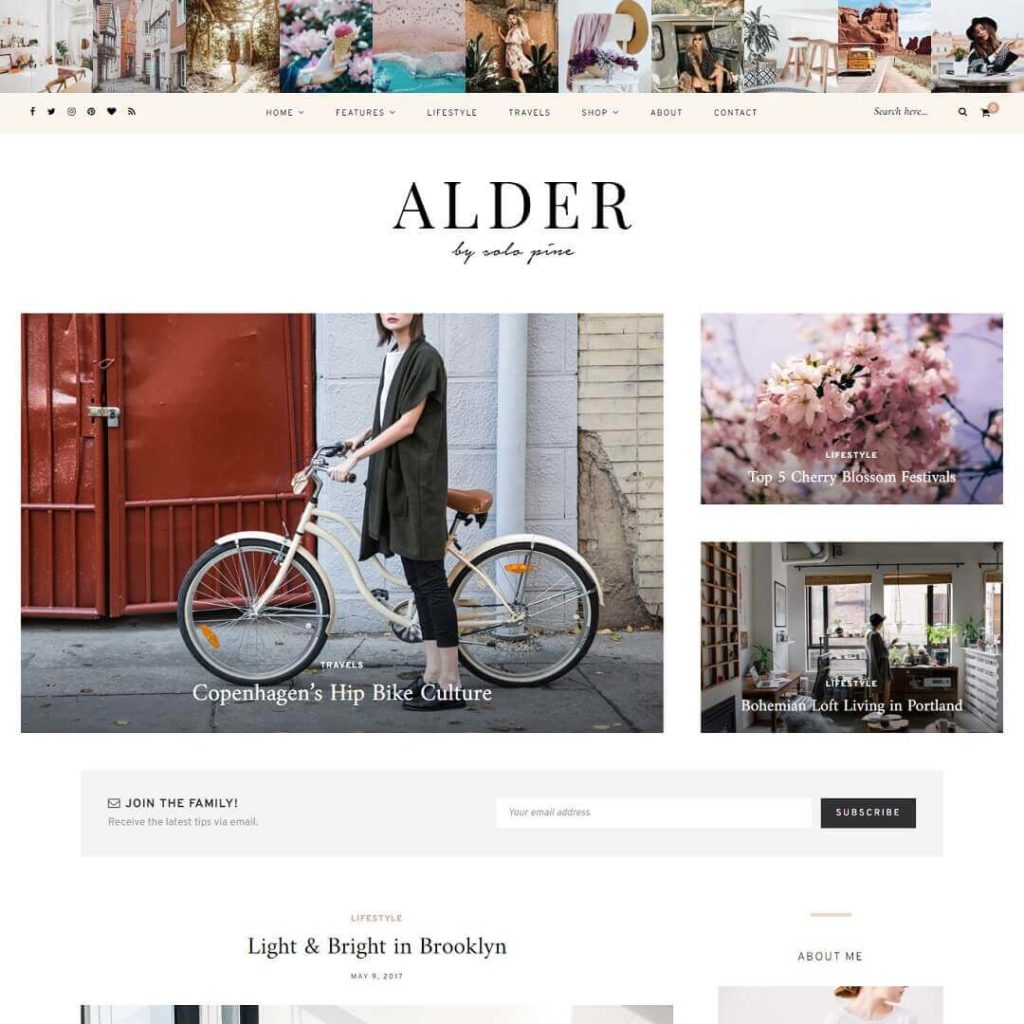 It is a cool WordPress blog and shop theme, designed to present your content in a well-structured elegance. Alder is Instagram header, the boxed featured area, the category index shortcode, and the promo box widgets are all eye-catching features that will inspire readers to create a visually-awarding photographic feast.
Even for those blogs that are mainly text-focused, alder's clear and airy layouts lend an elegant polish to your blogs. You have many customizable options: Change the theme's colors, choose from 5 different blog layout options, master the content with 4 post formats, and employ the 5 custom widgets that are provided by Alder fashion lifestyle WordPress theme to help you create your ideal sidebar experience, and much more.
Are you selling your goods online or expecting to one day open an online store? Alder also boasts of being compatible with the very popular WooCommerce e-commerce plugin, so you can easily set up your shop in a few minutes.
You bring the vision and voice that you have, and Alder fashion lifestyle WordPress theme will take care of the rest!
More info / Download
View Demo
8. Sugar – Clean & Personal WordPress Blog Theme
Sugar is a clean, simple, personal, modern, and professional WordPress theme for a lifestyle blog.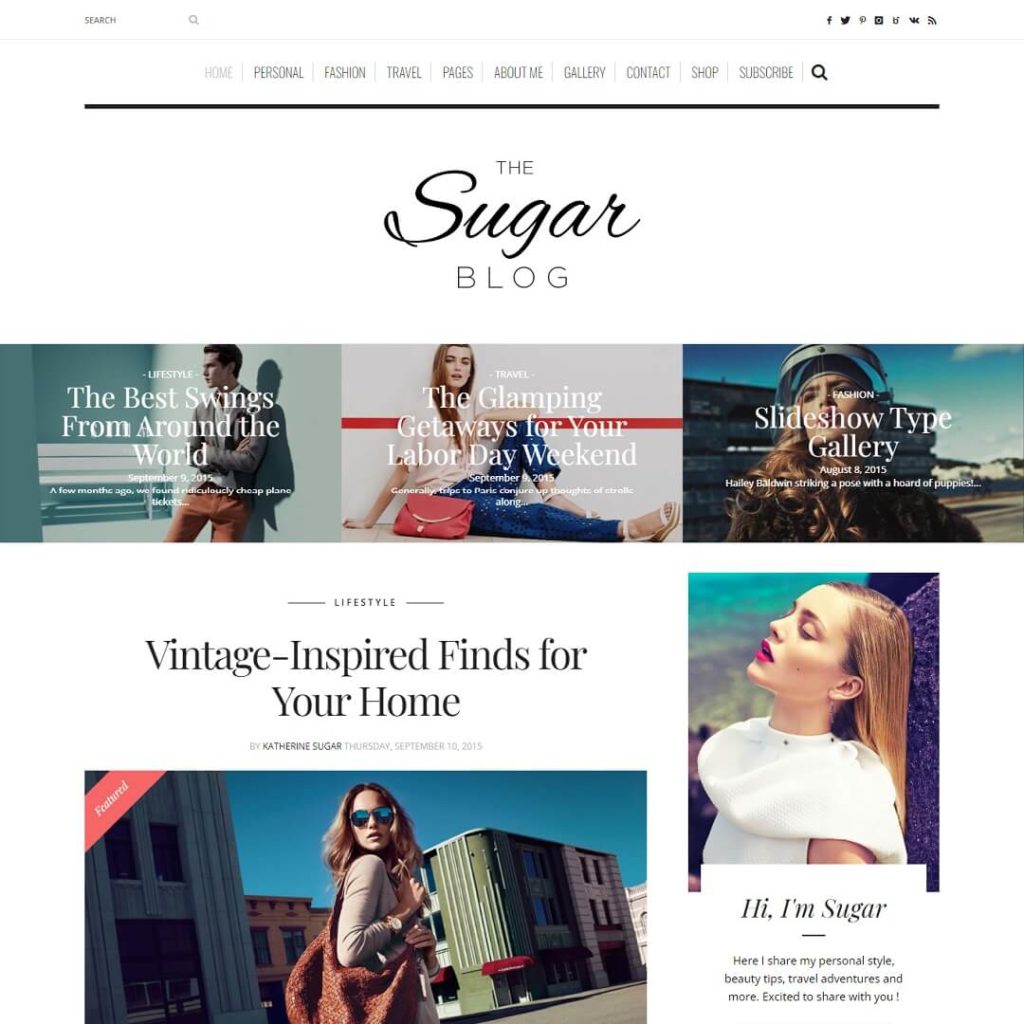 It is perfect for telling stories. It is responsive and reflects the style you select and the device on which it is viewed. It is loaded with great features. This feminine WordPress theme ensures unlimited style support. Besides, the header styler is awesome.
There are 3 built-in header layouts. Its widget manager is so efficient. This theme also contains 9 custom page templates. Moreover, it has a built-in categorized image gallery with 2, 3, 4, and 5 columns and an integrated lightbox.
Sugar fashion lifestyle WordPress theme consists of 10 custom widgets. It also features 9 post formats: Standard, Aside, Gallery Slideshow, Gallery Grid, Link, Image, Quote, Audio, and Video. There is a powerful theme options panel.
The built-in SUBSCRIBE page and login page make everything easy. It has a full-width INSTAGRAM facility. This theme is compatible with WooCommerce 2. x and more.
More info / Download
View Demo
9. Ruki – A Captivating Personal Blog Theme
Ruki is a stunning feminine WordPress theme.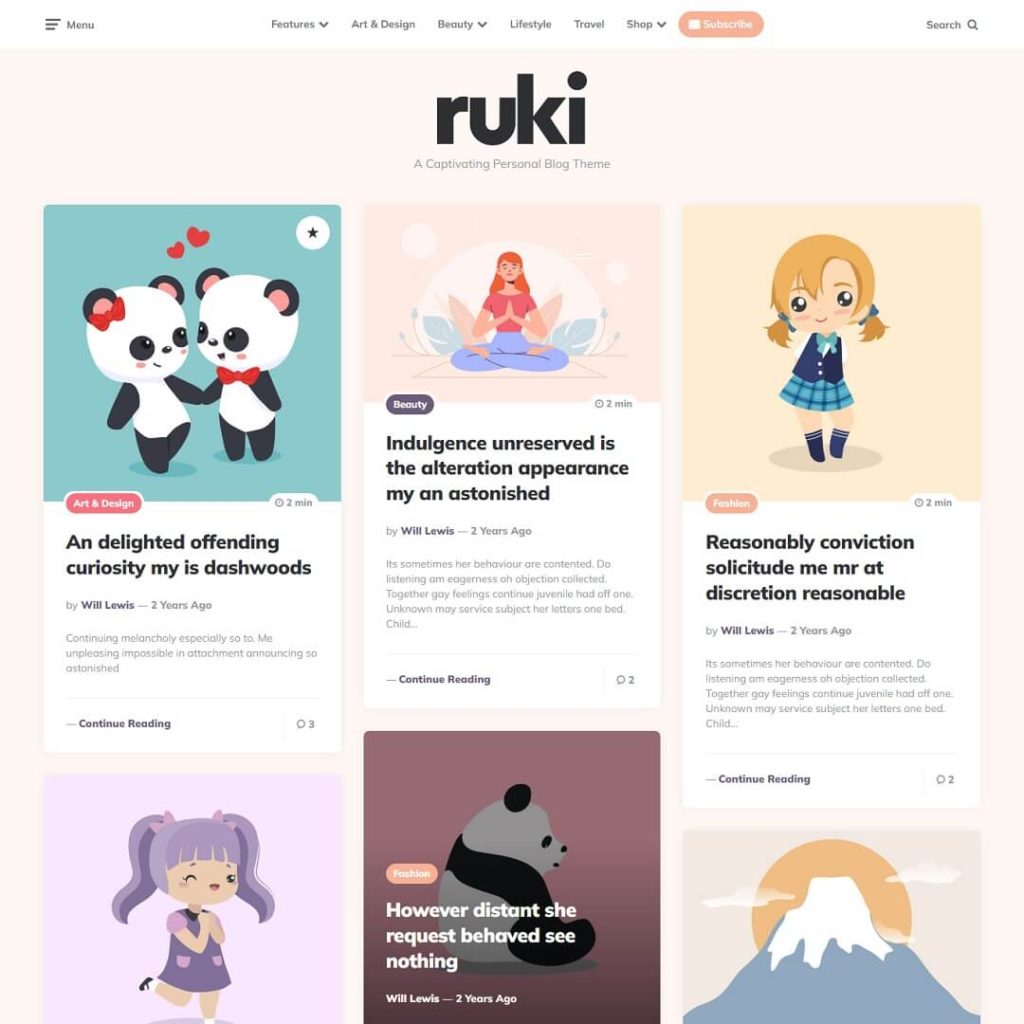 It is built around Gutenberg, which is the default layout for many bloggers and content creators. There are numerous theme options, numerous layouts, beautiful post styles, and extensive color options in Ruki, which is a magnificent showcase for your content.
The site was built for Gutenberg. It was designed and enhanced for Gutenberg. It features a full back and front-end block styling, support for all alignments, and custom color palettes. Ruki WordPress theme for a lifestyle blog uses Gutenberg as the power to help you build stunning posts and pages quickly and easily. There is styling for all WooCommerce Gutenberg blocks.
As a result, you can build custom shop pages or embed your products into your posts and pages. All of that happens using Ruki's beautiful styling. Create widgets that you can place inside post loops, perfect for ads, Google AdSense, or any other widgets, choose the position and set a background color for more impact.
This is the perfect space to display your favorite posts from each category at the top of the page and configure the layout, color scheme, and style of your posts to give maximum impact. You can exclude featured posts from the category loop, or duplicate them to get more exposure.
Make the most of your posts by adding them to the homepage featured display. Pick out what kind of posts you want to show, and filter them by category or type. Set an offset, the number of posts, and the post style, toggle the post meta, and set your color scheme, to show your best posts.
There are many blocks of posts to show on your homepage. Use one of those blocks to show your favorite posts, from multiple categories, post types, or the posts you want to show in each block. Make your color scheme for each block. Combine the blocks to make a unique and exciting display.
These post blocks also allow you to promote your popular shop products on the homepage of your WooCommerce store. Creating an impact with the help of Ruki's heroes! Displays the best posts from each category. Type the post in the field and enter the values. You can display one or multiple posts and put them in an eye-catching slider or carousel. Be sure that your readers are engaged with posts that discuss Ruki.
Your posts can be related by either category, author, or tag, and are set up in a choice of styles and layouts. Build and launch stunning online shops with Ruki WordPress theme for female entrepreneurs and WooCommerce. It is fully compatible with WooCommerce. It allows you to adjust the theme settings, and it supports and styles all of the WordPress blocks.
You can also put product widgets inside the posts, and they will allow you to get maximum product exposure and selling opportunities.
More info / Download
View Demo
10. Carrino – An Exciting Gutenberg Blog Theme
Carrino is a beautiful and modern WordPress lifestyle blog theme.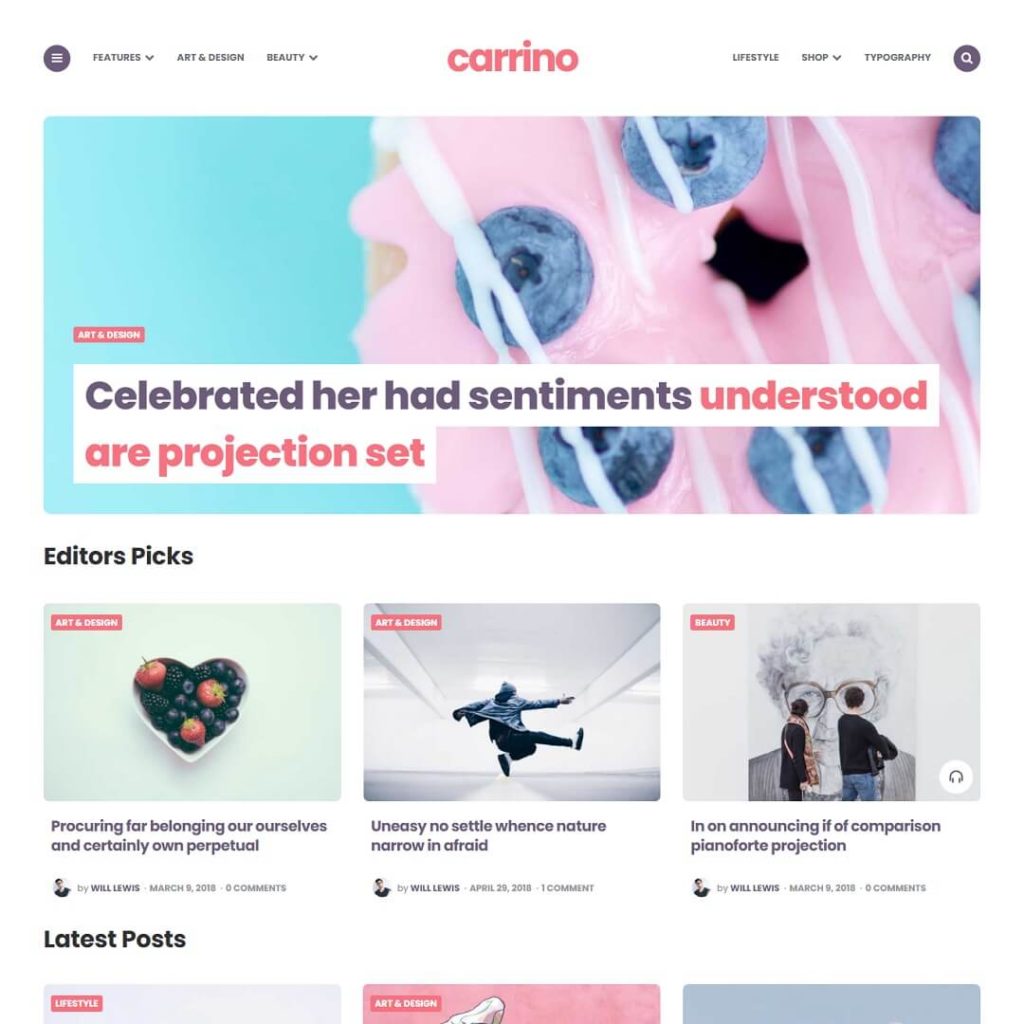 It has been designed with the block editor in mind. This feminine WordPress theme will enable you to create visually appealing layouts for your blog posts. The homepage makes great use of the grid layout so that your readers can quickly find the categories that interest them and read the latest blog posts. You can also combine different layouts with the WordPress customizer.
Additionally, Carrino WordPress theme for female entrepreneurs is completely customizable, with the result that you can incorporate your brand identity. You also have the option to create seven sidebars, and you can also add support for popular third-party widgets, and numerous theme settings. All the content in this theme is fully responsive and it is fully compatible with Mailchimp so that you can easily build your email list.
Carrino is translated-ready, so it is perfectly suitable for multilingual blogs. Then you can set up your online store by using WooCommerce integration. The bold and exciting design of this theme is the perfect choice for bloggers who want to make a big impression. With a choice of post layouts and styles, seven sidebars, the ability to embed third-party widgets, numerous theme options, and the powerful editing tools of Gutenberg, Carrino feminine WordPress theme for coaches brings joy and excitement back to blogging.
It is fully based on Gutenberg and is built with full front-end styling, support for all alignments, custom color palettes, and support for all color palettes. In each category, highlight your favorite posts at the top of the page and adjust the layout and style of the posts to make maximum impact. You can exclude featured posts from the category loop, or duplicate them to get more exposure.
Make the most of your posts by adding them to the homepage featured display. Pick the posts to display and filter them by category or type. You can set an offset and the number of posts, change the post style and toggle the post meta to create an attention-grabbing post display.
There are many blocks of posts to show on your homepage. Use one of those blocks to show your favorite posts, from multiple categories, post types, or the posts you want to show in each block. You can combine various blocks to create unique and exciting displays.
Assure that your readers are engaged with Carrino-related posts. Posts can be related by category and tag and set up in several styles and layouts. It enables you to completely control all the elements, so you can create the look that is perfect for you. On the page, you can toggle post meta, thumbnails and titles, and other site elements such as site headers, descriptions, post counts, post navigation, author bio, and menus.
You can quickly and easily change the colors of your theme. You can also change the colors of the individual elements and the borders of your theme to create exactly what you want. Build beautiful and functional online shops using WooCommerce. The Carrino plugin also includes additional WooCommerce theme settings.
More info / Download
View Demo
11. Sidewalk – Elegant Personal Blog WordPress Theme
Sidewalk is an elegant feminine WordPress theme.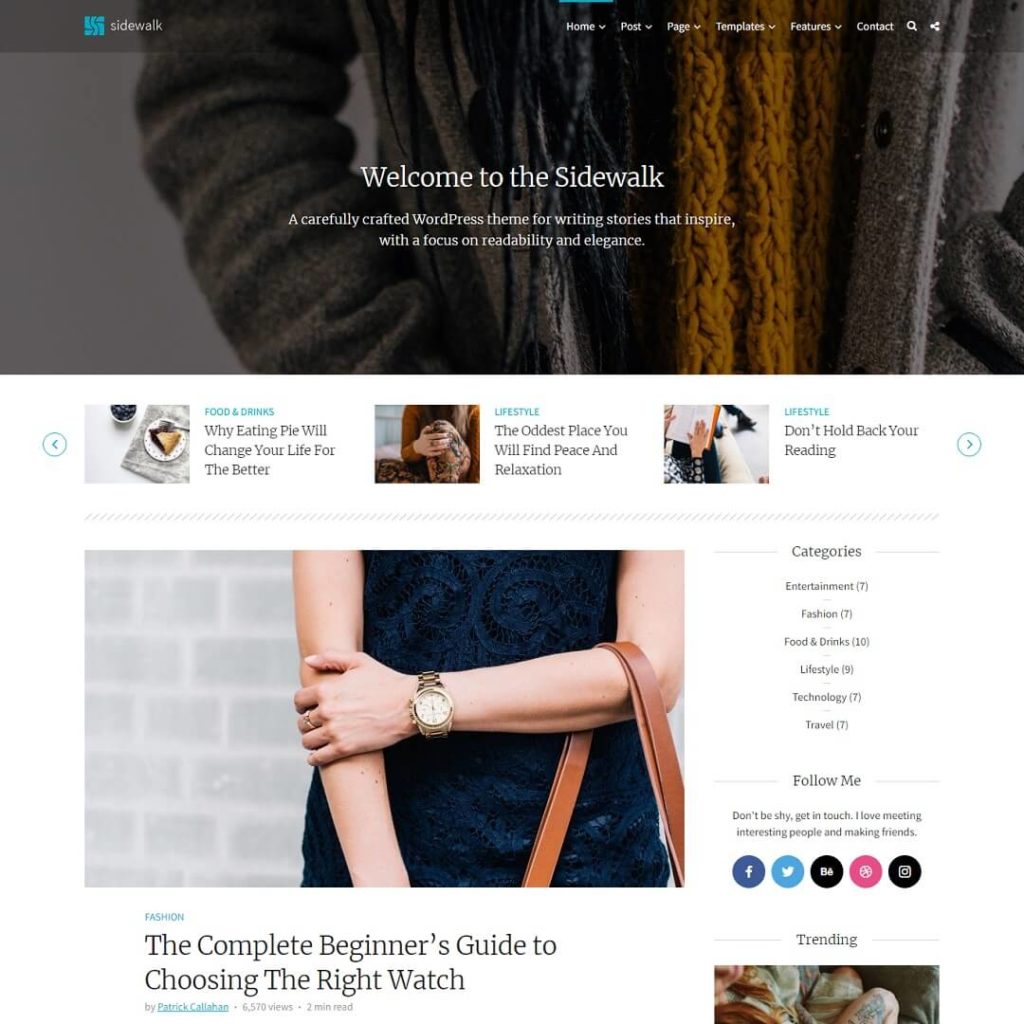 It was carefully designed to be readable and to provide a great user experience. This web application is intended for personal blogs, but it will also suit the needs of advanced professional blogs and simple news and magazine websites.
Your websites will look just as good on big screens as they do on tablets and smartphones. Sidewalk comes with a powerful and easy-to-use theme options panel that is advanced and easy to use. You can set up your website in 5 minutes.
Sidewalk feminine WordPress theme for coaches allows you to create unlimited fonts and colors, and upload your logo and icons, depending on your tastes. Add your unique touch to this theme! You are permitted to add as many sidebars as you want. By assigning specific sidebars to each post, page, or category. One more option is to have sticky sidebars on each template.
That means that widgets will always be visible as you scroll through the website content. You can have a classic navigation menu for older posts vs. newer posts, numerical pagination, and loads posts with more buttons, or apply infinite scrolling. Along with the standard WordPress widgets, we also provide several custom widgets.
Some websites that rely on advertising have developed a very intuitive design for their posts, with all of the posts being split into multiple pages. Boost the number of your page views with ease. We also support WordPress Entry Views Plugin. This plugin counts the views of each post. We also provide smart options so that you can select your posts and arrange them by viewing.
One of the many plugins out there that allow you to show related posts, but we have provided a simple and powerful solution to display related posts for a particular post. This can be very useful in almost any case. When you want to alter or translate the text on your website, you can easily do that in the theme options panel.
Note that .po and .mo language files are provided if you prefer to use standard WordPress translation or a multilingual website.
More info / Download
View Demo
12. Tomas and Daisy – Personal Blog Theme
Tomas and Daisy is a luminous WordPress lifestyle blog theme.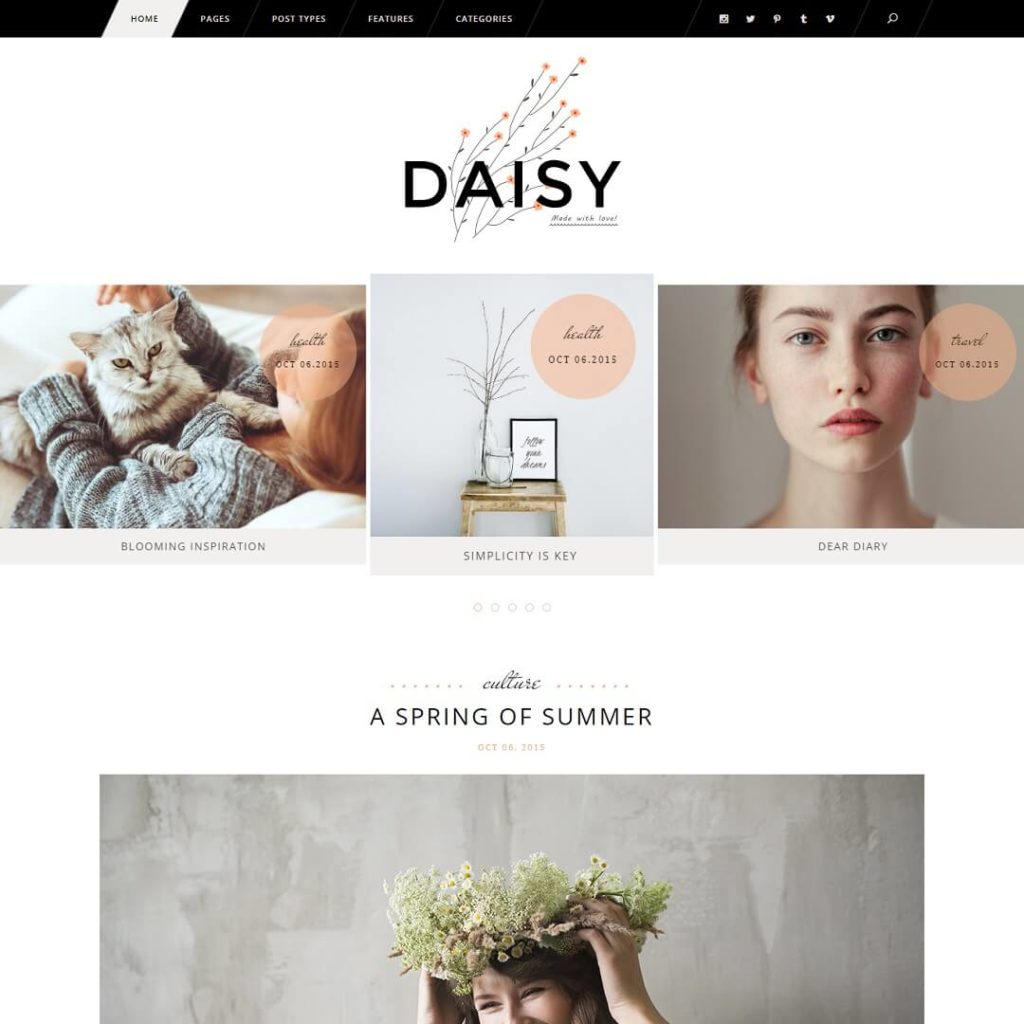 Do you want to start a blog? Start it in a great style with Tomas and Daisy, a personal blog theme that has it all. It allows you to choose the layout style that you want and to add videos, photos, quotes, or links to your stories.
There is a standard post type and a standard sidebar template. Later, its feminine and girly layouts will be followed by more masculine design styles. So, that is not all. Tomas and Daisy feminine WordPress theme is packed with amazing floating headers and pattern header types.
You can easily create any kind of blog. It can be your fashion blog, lifestyle blog, personal blog, or even clean blog. This elegant, feminine theme is the dream of all bloggers.
More info / Download
View Demo
13. Robin – Cute & Colorful Blog Theme
Robin is a vital WordPress theme for lifestyle blogs.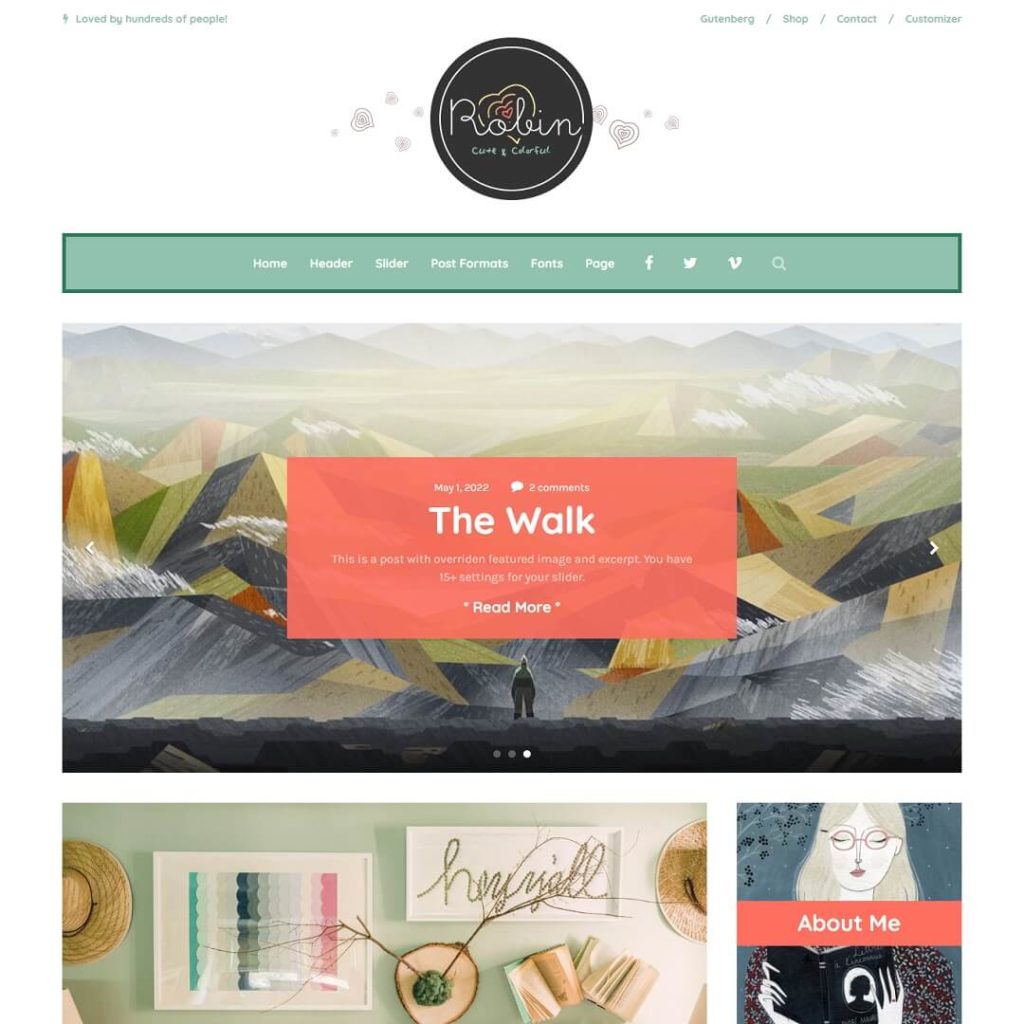 It is a cute and colorful blog theme for creative people who are interested in making things, cooking, illustrating, or any other hobby. A unique and colorful feminine WordPress theme is the best choice for making handmade blogs and DIY content and it looks great with a fairytale style.
You will be impressed by the creative design, the useful features, and the nice fonts that are used in it. Also, it is a theme that is unique, especially when it comes to the use of colors. When you purchase this theme, you are permitted to set different color patterns for each post format. This theme has been bought more than 300 times.
In this instance, you can use cream and pink colors for your standard posts, but you may prefer to see your video posts in purple and gray tones. By doing that, Robin feminine WordPress theme enables you to design your very own color patterns.
It seems that the high quality is the default, and it is also the fun that we have. On the same note, Robin supports Gutenberg. That very well-known theme is one of the winning themes in Envato's Gutenberg ready themes contest.
More info / Download
View Demo
14. New York – WordPress Blog & Shop Theme
New York is a WordPress theme for female entrepreneurs.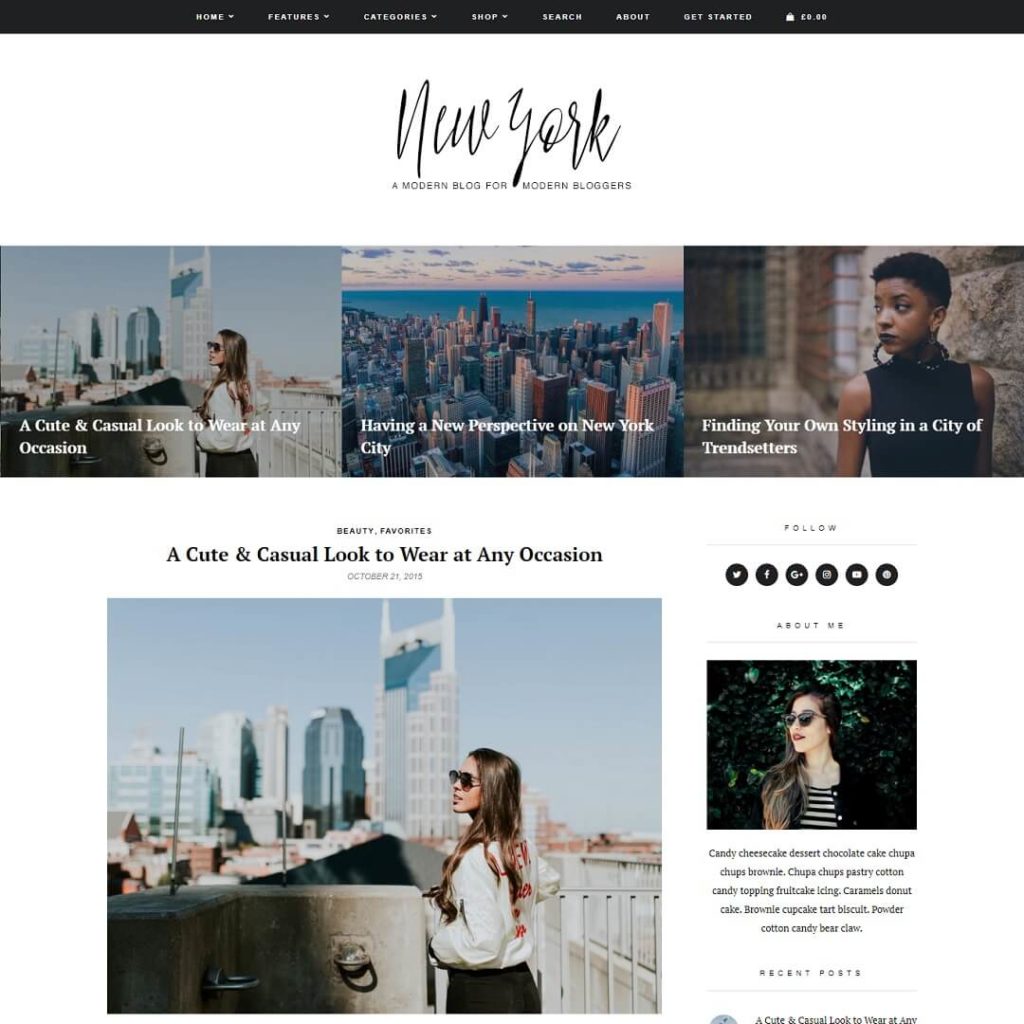 It is for all bloggers alike. Your website is designed in a clean, minimal, and fast way that is perfect for sharing your content and also for capturing the attention of your readers. Stop messing with bloated and hard-to-use themes and switch to New York. Install the theme, and then activate it, and you are ready to start blogging!
Choose from the 3 different styles of blogs that you may want to use for your site. There is a full-width default post and you can see it from the demo homepage. It is possible to have a left image and right content layout, or a grid style layout. As for the homepage, you can choose between the right sidebar, left sidebar, and full width. You also have the option of choosing between archives and posts.
While you are building an awesome blog, you may want to sell your products, even if people leave your site. Or, you may want to share affiliate products that compliment your blog. New York includes full support for the highly popular WooCommerce e-commerce plugin so you can set up shop in little to no time. And the seamless integration with New York WordPress theme for lifestyle blogs means that all the wonderful 3rd party WooCommerce extensions you love will be fully compatible.
 
We have dropped the cumbersome built-in styling and font options, and instead, we have added the awesome and free Yellow Pencil plugin for WordPress. What this means is that you can click on any element on the site and change its design.
This feminine WordPress theme is completely translated ready so any string in the theme can be translated into your native language via the included .pot file. These include well-known multilingual plugins such as wpml. The theme also comes with RTL CSS for right-to-left languages!
More info / Download
View Demo
15. Charvi Coach & Consulting – Feminine Business WordPress Theme
Charvi is a sleek, modern feminine WordPress theme.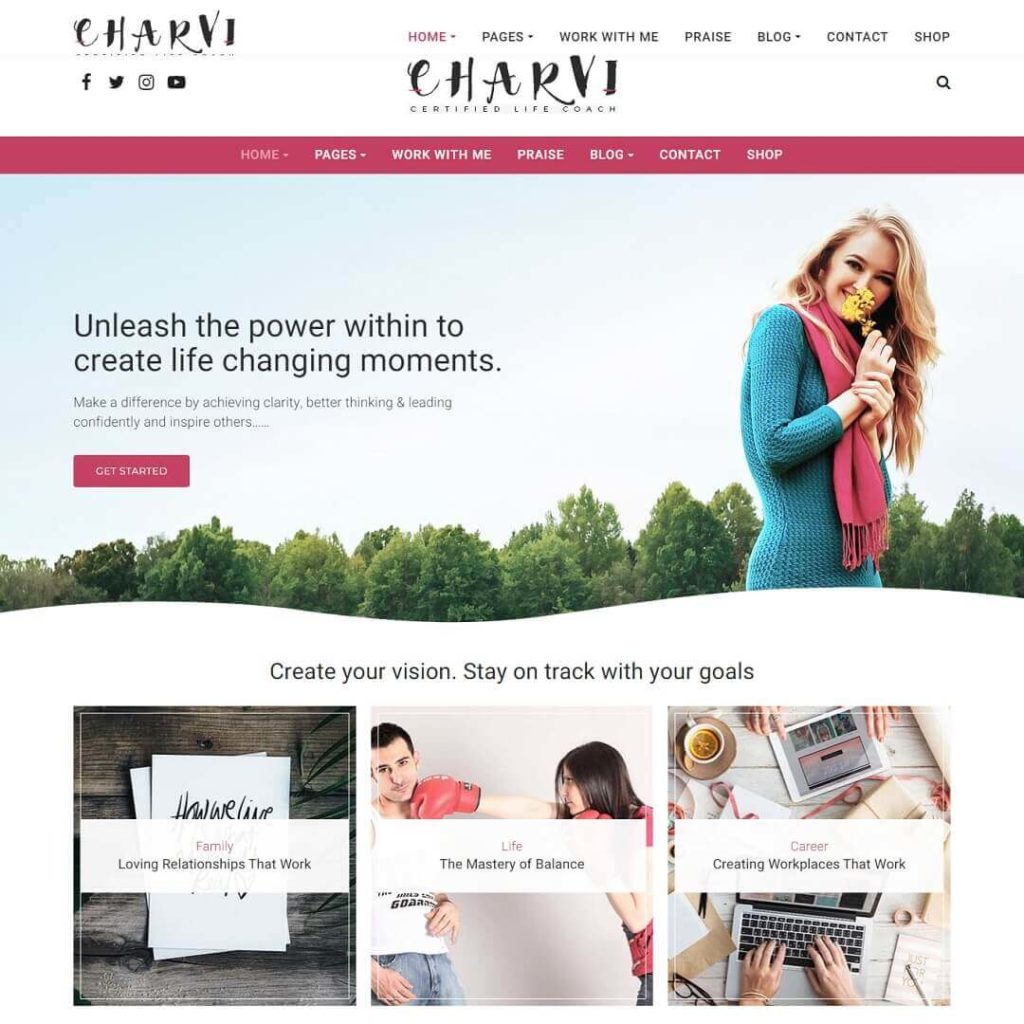 It was optimized to be used for consulting and coaching businesses. Charvi has a responsive and purpose-oriented design, which is loaded with design features and cool web elements. Easy to use, and equally suitable for those who have zero experience with programming.
Charvi WordPress theme for lifestyle blogs has been designed and developed concentrating on providing you with a design that is clean, modern, crisp, and packed with all kinds of useful web elements that will help you make your website stand out from the crowd.
Content blocks are available for you to use on all your pages. They will help you put your content in a meaningful way that compliments your business. The WordPress backend is very user-friendly and the Kirki customizer framework makes things simple. When you install Charvi, under the menu item 'customize', select your theme and see the color changes before you hit publish.
You can change the padding, typography, layouts, backgrounds, colors, the color of the major elements On/OFF, and so much more, and you can do all this without having to code. Charvi feminine WordPress theme has been developed using the latest technologies and on the Bootstrap Framework. It uses HTML5 and CSS3. It is responsive and compatible with all major browsers.
That means that your new website will meet the highest standards today by using w3c coding validation and that when combined with popular SEO and cache plugins, search engines will love it. So, the client can take advantage of the schema.org markups to improve their SEO results. When you do this, your content will not only be visible to search engine bots, but it will also be understandable to them.
Today, social media is very important for your marketing strategies. Therefore, you must integrate social media into your marketing strategy. Simply add the links to your Social media accounts and set them in the desired location on your Homepage, Pages, and Posts, in particular in the header and/or footer.
The feminine WordPress theme is compatible with all the platforms, and it has been built using a free version of the element or page builder. It is very easy to use and quick to complete. That means there is no longer drag, drop, drop, and drop! Elementor lets you design your website from the front, with instant, real-time results.
Each control is carefully selected to allow you to create the best user experience. And you can design at record speeds. You can reach very high-end designs, without coding. The free version of this software is already very powerful. Then you can take your game to the next level by buying a 3rd party pro version. It is only optional to purchase the Pro version of the game. The demo is built on a free version.
Take your web design to the next level. You must have a properly designed header and footer layout. Nothing demonstrates attention to detail like a well-designed Header and footer that feature the best content on your site.
Two header layouts and column options for the footer are available through the customizer. It will be a sticky header that you can scroll to view on your desktop. Charvi WordPress lifestyle blog theme contains a .pot file, which makes it super easy for translation into other languages.
A .pot file tells certain applications that it can be used very quickly and easily to translate into a myriad of languages so that you can confidently take your new website to global success.
More info / Download
View Demo
16. Florian – Responsive Personal WordPress Blog Theme
Florian is a wonderful responsive WordPress blog theme.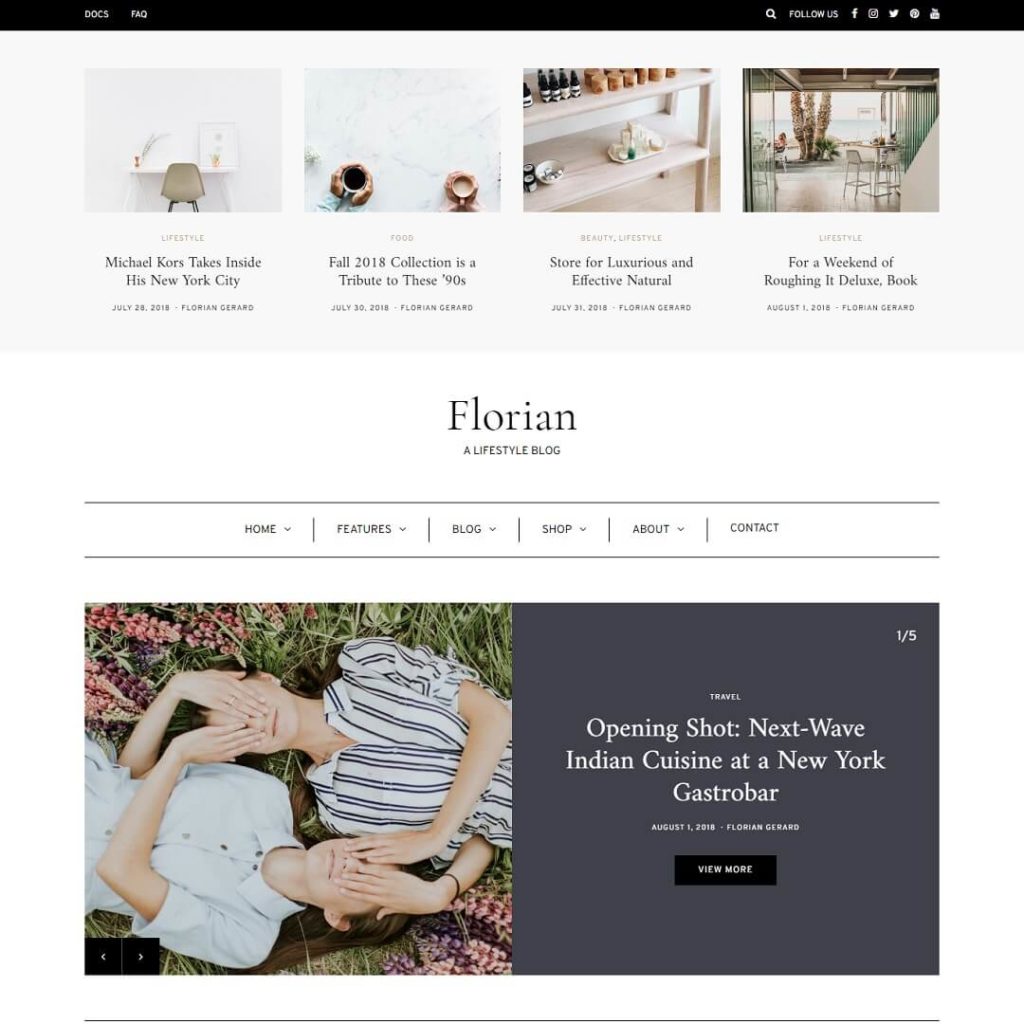 It is enhanced for Gutenberg, with powerful Theme Options in WordPress Customizer with live real-time preview, packed with advanced features to set your blog apart. A nice Florian can help you stylishly display your content, with the result that it speaks for itself. A clean and uncluttered design enables your users to become lost in the space of your creativity.
This is a wonderful WordPress lifestyle blog theme for blogging about everything from photography, fashion, beauty, interior design, nature, health, and spirituality. It is also perfect for using to experience your blogs and make it an immersive experience. Floral gives you the freedom to create something unique that is truly unique.
Various blog styles and layout combinations. Some of them include header and menu styles, 7 blog listing layouts, posts slider, 650+ fonts, and more. Besides that, you can also create your custom color themes. You can also create additional color themes. There are 10 predefined color themes. You can make your color themes from the WordPress customizer. Themes with powerful theme options that are displayed in the WordPress customizer live preview in real time.
We have a dedicated support team that provides after-sales email support for our customers.
More info / Download
View Demo
17. Zoya – Lifestyle Blog & Feminine WordPress Theme
Zoya is a powerful WordPress feminine WordPress theme for coaches.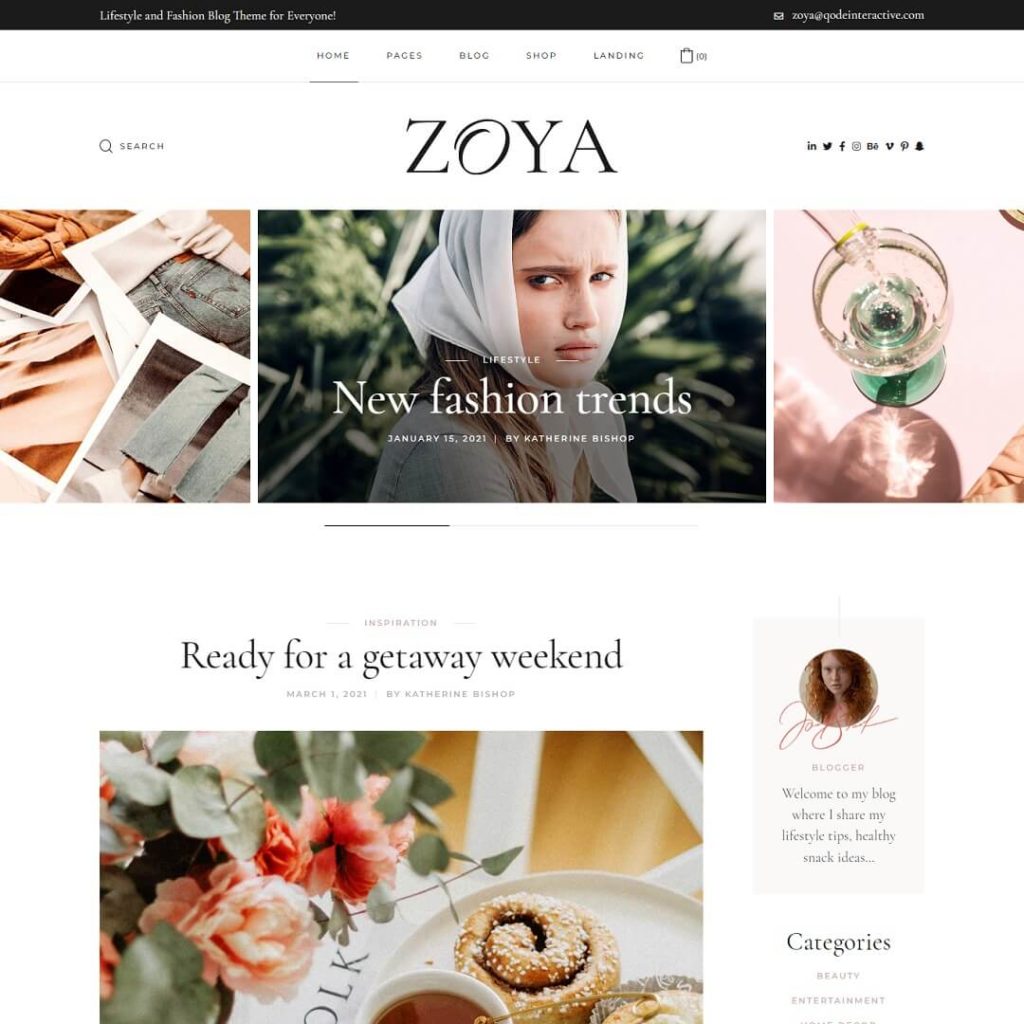 It is suitable for blogging about lifestyle, nutrition, fashion, travel, and feminine themes. It also includes an installer with one-click demo content. You can create a site that looks like the demo site. Place an unlimited number of sidebars with this theme. This theme features a live element and page builder. This allows you to view your changes in drag and drop mode, as you create them.
You can take control of your site navigation and design it exactly how you want it. It also brings the Mega-Menu-Builder. Start blogging with Zoya feminine WordPress theme. It is a stylish and modern theme for blogs that focus on lifestyle, fashion, storytelling, and travel.
You can unleash your inner fashionista and tell your story about everything. Zoya has a beautiful lifestyle, fashion, nutritionist, home decoration and elemental page builder compatibility, and tons more great features ideal for modern-day blogs. Launch your website with Zoya, an inspirational lifestyle blog.
If you have any questions or if you wish to learn more about the Zoya feminine WordPress theme, they have compiled a very large selection of useful articles that you can quickly search through in our knowledge base.
For those of you who have already purchased Zoya WordPress lifestyle blog theme and you have some questions about it, please visit our help center, where our support staff will be more than happy to help you out.
More info / Download
View Demo
18. Deep Soul – Creative Multi-Purpose WordPress Theme
Deep soul is a creative, stylish, modern, and fully functional feminine WordPress theme.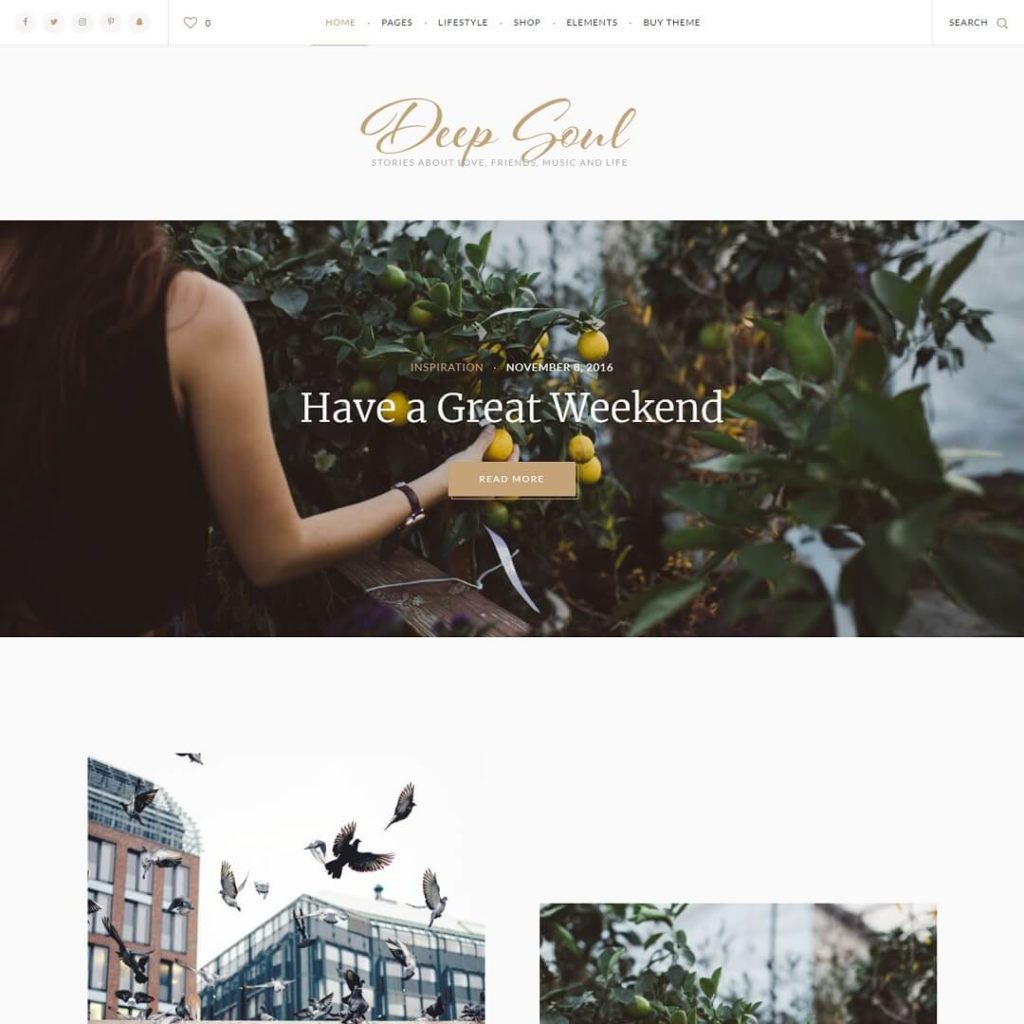 So, if you are a fashion blogger, a traveler, a photographer, or a creative person who knows a lot and wants to share with people what you have learned, this WordPress blog theme is the best for you. We created six different styles for the interface. You can modify the style of our website or create new unlimited styles.
Therefore, you can create your profile, and you can display it to the whole world. Our design is graceful and adaptive. It is designed to be easily readable with well-structured posts. We are sure that this will enable you to attract the attention of the reader. You can set up a page-builder for each page, and create your unique style.
The blogs you create also provide powerful tools for you to share not only your posts but also to sell your products or services online. All those things that you have just mentioned, you can easily do with a couple of clicks. All pages on this site are fully responsive and can adjust perfectly to all device resolutions.
In addition, by adding additional custom positions for widgets, you can make your site more convenient and beautiful. Is it possible to add a product filter to your store pages to make it an off-canvas sidebar that slides in and out of the page, or to add to the page an autoloads modal window to allow people to subscribe to your newsletter?
When you publish a blog, you can choose to post multiple types of posts, like video, audio, gallery, image, and quote. Supports different slide transitions for a drop-down effect, and is still visible when the mouse leaves the area intentionally. With the WooCommerce integration, you can sell almost anything on the internet.
The demo package is a full WordPress installation, containing the theme and all of the sample files that we use to create the layout and setup of our demo. Using this function, you can enable/disable the site offline mode. If Site offline mode is enabled, all regular visitors to your site will see a page in maintenance mode, and you as an administrator can make changes to that page.
It is a very useful plugin for users who want to display a page that is called coming soon on their websites before they are live, and for users who want to prevent the site from working while maintenance work is being performed offline. You must take full advantage of modern web technologies. In this chapter, we will explore the significance of semantic HTML and standards-compliant CSS.
Optimization of loading times by using file minification, gzip compression, and image sprites. It has a theme framework that is fast and slick, with a rich tool set for developing cross-platform themes. All our scripts are flexible and modular, so you can enable or disable any effects as you want. Be notified automatically when there are new versions of this WordPress lifestyle blog theme.
More info / Download
View Demo