First of all, making a wedding website is pretty easy if you go with one of the best wedding WordPress themes. As soon as the wedding bells start to ring, it may not seem like a priority to build a website. When the craziness of finding venues, arranging catering, and planning a party for your guests subsides, it is not a bad idea to consider whether or not having a website might help you.
These wedding template websites are loaded with lots of features, and they are designed so that even beginners can make beautiful websites. So, if you have no experience with making sites, and you do not have all the time in the world then a WordPress theme for weddings is the best option for you.
What kind of themes do you expect to get when you buy one of these themes? It seems that some of the best wedding themes are simple. But, the features that they have are responsive, lots of media support, etc. You can also add large picture galleries to the site and allow people to RSVP to your special day.
One thing we like about wedding themes is that they usually have a countdown timer at the top, which allows visitors to quickly see when the big day is about to happen. By using these tools, you will reduce the time that you spend on things like invitations and event updates. Similarly, you can get people to sign up for your blog or email newsletter, in case something changes. Therefore, if you are looking for a beautiful wedding template, continue reading to learn more.
1. Jack & Rose – A Whimsical WordPress Wedding Theme
Jack and Rose is one of the best unique wedding WordPress themes.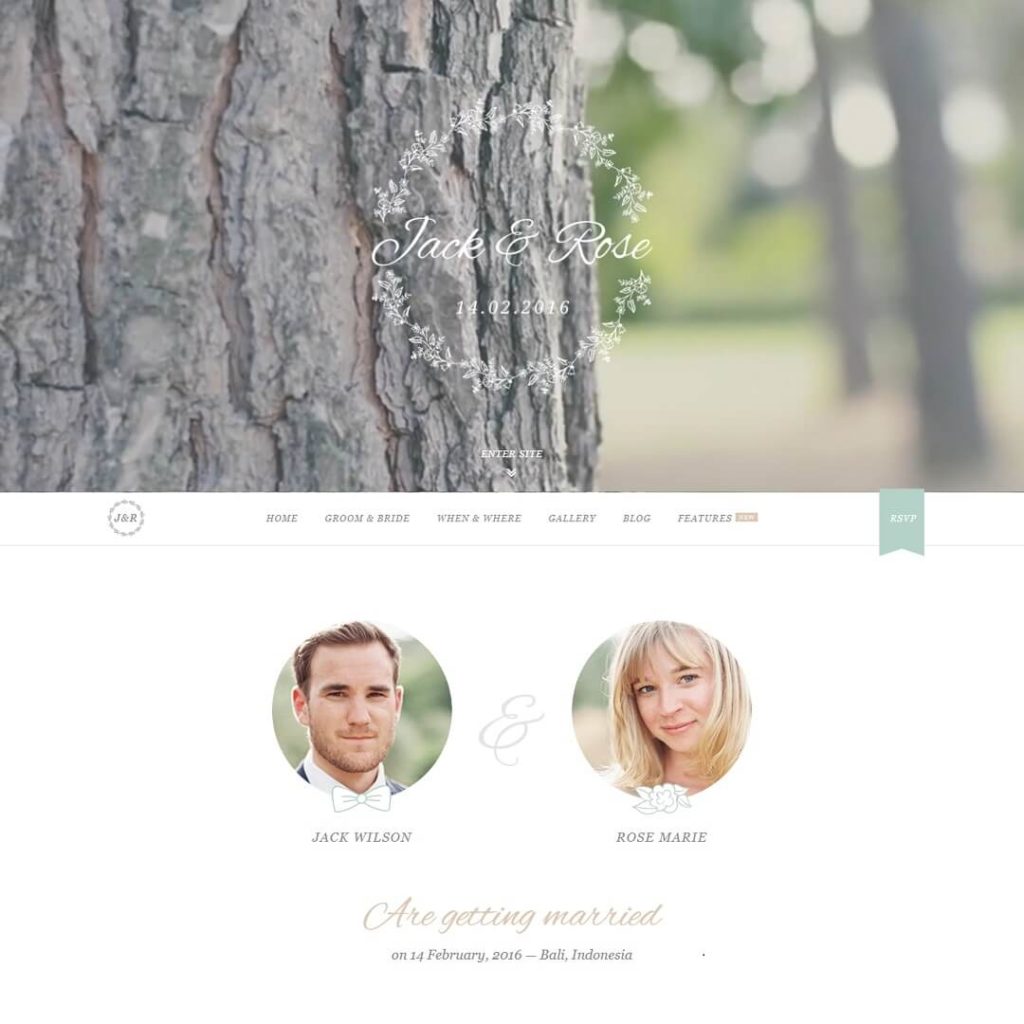 Having a wedding website that you can use for your wedding day is very useful. It helps you stay in touch with your guests, and you can let them know more about your wedding, and you can even share with them some of the happy moments that you had. But, what many people have is that they do not have time to build the website, and they do not know how to build it. We have heard what you say!
Jack and Rose is the perfect solution to build your wedding website in no time. WordPress is a very simple and intuitive software, with the result that you can set up your wedding website easily and at a very minimal cost. Jack and Rose wedding event WordPress theme is designed to fulfill your desire for a whimsical wedding theme you have ever imagined.
It is very smooth, it is fast, it is mobile-friendly, and it has tons of fancy features. It comes with a drag and drops page builder module, which allows you to build your pages easily, without any coding knowledge. You can build your website even faster by using the one-click demo data import feature!
Manage your guests using our online RSVP form. Allow them to share their thoughts with us using the interactive guestbook page. Add to the interactive google maps section all the wedding locations that you want to, in a very simple way. All the design aspects of our website have been carefully optimized for desktop and mobile device experience.
Jack and Rose wedding planner website design embraces modern feels by adding smooth parallax, fade-out animation, and sakura fall effects. For you, rest assured that your inquiries and questions will be looked at by our experienced customer support team. The wedding WordPress theme is whimsical and elegant, presenting three homepage layouts including video backgrounds, single images, and sliders.
So, you can create a place to have the wedding, a gallery, a blog, and a guest book. It is a one-page theme, and the navigational menu scrolls the users to the row that is appropriate for them. On the blog, this structure allows people to go between separate posts. The wedding WordPress theme is completely responsive and it comes with a drag and drops page builder so that webmasters do not have to spend much time learning the source code of the theme.
It features responsive elements, which means that everything snaps into place when viewed on mobile devices which will help give you smooth and fancy effects, such as parallax and fade-ins. All of this will be a wonderful presentation of your wedding details. Along with social media buttons, images, and information about the wedding party and beautiful image galleries. This WordPress themes wedding planner comes in at the top in terms of wedding themes.
More info / Download
View Demo
2. Moments – Wedding & Event Theme
Moments is a fabulous wedding planner website template.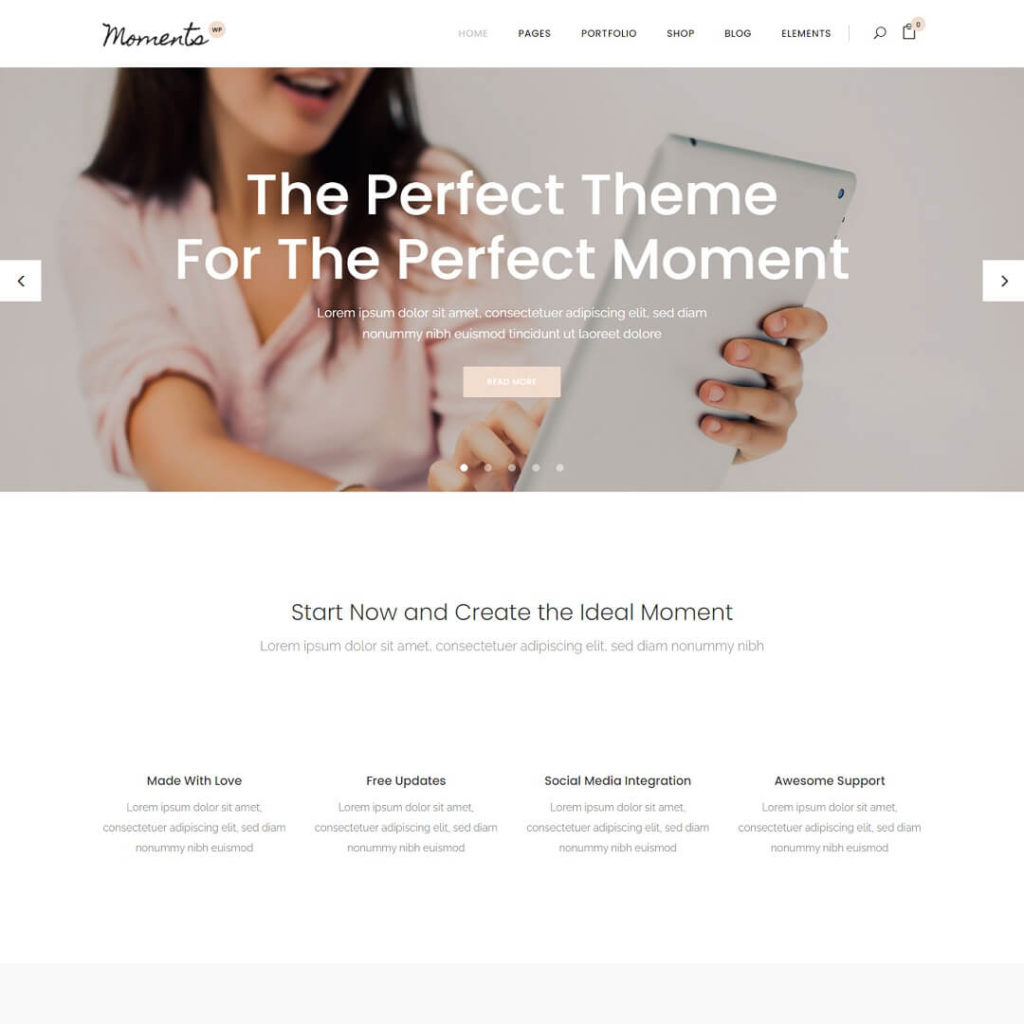 Most people consider that wedding day very important. When it comes to celebrating a wedding, it can be stressful. People may have their dream wedding and you may be their favorite wedding planner! Moments has been designed gracefully, and it is a stylish event WordPress theme that is suitable for every wedding planner and event planner.
It includes a beautiful set of wedding templates and everything you need to have a memorable celebration. All Moment's website visitors will be sure to find absolutely everything for their white wedding, including a wedding invitation that is specially made for them. You can also set up a wonderful shop for selling various kinds of wedding decorations.
Moments couple website template is a good solution for couples who are getting married, but it is also a multipurpose solution for all kinds of celebrations and events. When you want to cut out physical invitations, you can make use of these stunning invitations and announcements. You can collect rsvps through the website, and use the photo galleries to present the most elegant ceremonies and events.
They also combine WooCommerce with elegant shop layouts, and everything is easily viewed on mobile devices. You will have many font and color options to choose from. It is essential to get the look and feel right for your wedding. Some companies may have green tablecloths and plates, and they may want your site to look similar.
The free WordPress page builder plugin helps you cut down on the amount of coding that you need, and the free Revolution Slider plugin will ensure that the couple's page is full of creative and fun photos. Moments WordPress themes wedding planner has sleek and simple rsvp forms and all the essential features that you need for a successful wedding site.
More info / Download
View Demo
3. Wedding Industry
Wedding Industry is a superb wedding planning theme.
With this wedding WordPress theme, you can create a website for any business related to a wedding, save the day, wedding location, wedding flowers, wedding atelier, and set up your site in a few easy steps. Thanks to the many demos included as planner, couple, engagement, locations, flower, favors, atelier, and invitations you can choose the best design that fits more to your needs, depending on the type of your wedding business.
Consider Wedding Industry wedding planner website template if you are trying to put lots of focus on the wedding countdown timer. It is not a bad idea to get access to hundreds of demos and website elements. The options for customization are very extensive, and this is a wedding WordPress theme that serves many purposes, with various layouts and designs.
Choose from the many sample designs. One of them is a simple wedding couple template. Another is a complete wedding registry. We display the countdown timer in the header area of the site, and a large image of the happy couple. Show the date of the wedding, and tell people more about the bride and groom. We have included social media buttons that you can place on the website.
You can get thousands of free, open-source fonts that are optimized for the web. Simply click on the fonts to enable them to be used on your website. In the package, you will find the Revolution Slider plugin. It allows you to make a spectacular slider. It is responsive, and it can show pictures, videos, and endless effects. Make a slide for your atelier.
This wedding template website uses a grid system with 12 columns, which is ideal for presenting on a display that is responsive to all devices. Then you can create full-width sections, full-width sections with parallax images and videos, and normal filters and colors for each section. All forms have been graphically designed for the best usability and user experience. As a result, we can improve the look and feel of the entire design.
This wedding planner website template WordPress also includes several pages that will be dedicated to your shop atelier: About us, services, design, prices, FAQ, 404, single designer, contacts, and page request an appointment.
More info / Download
View Demo
4. Wedding Day
Wedding Day is a superb wedding planner website template.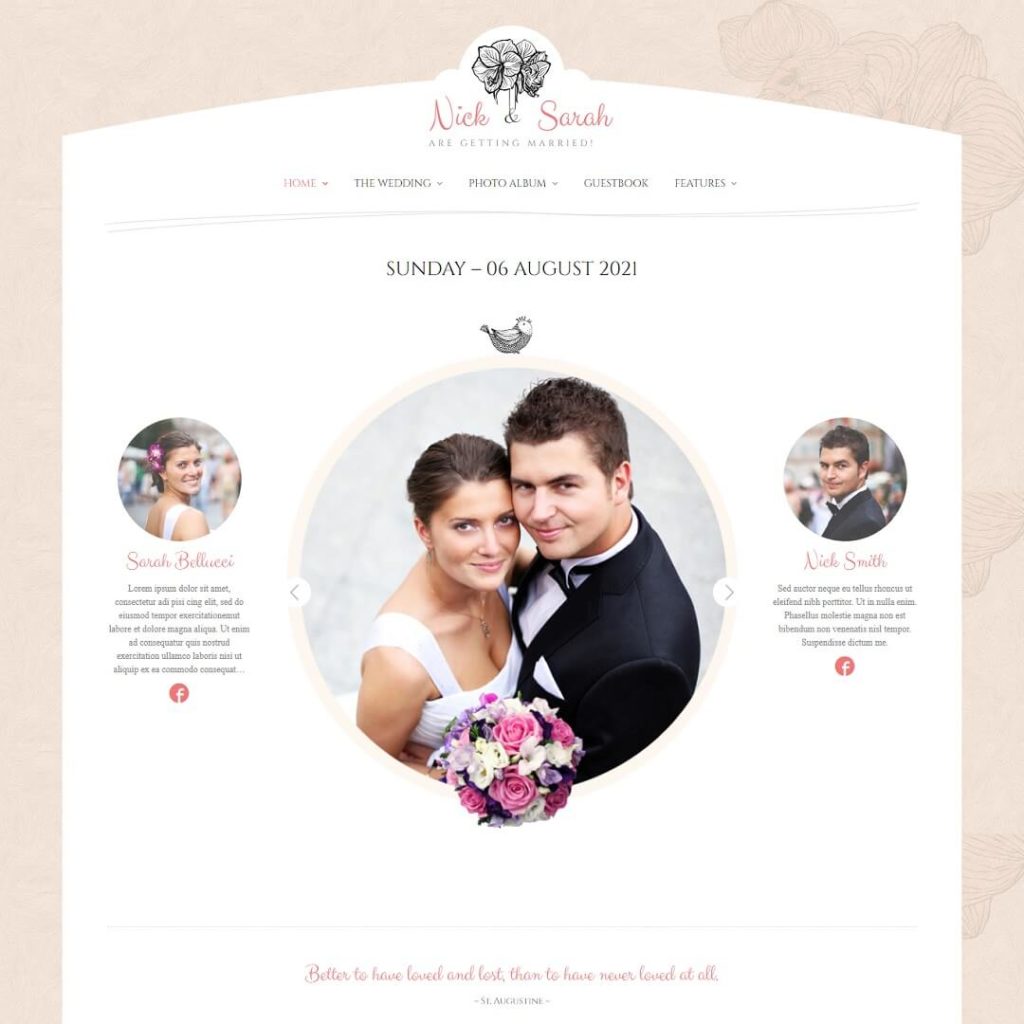 This very lovely niche wedding WordPress theme is designed to be suitable for weddings and wedding planner businesses. It is easy to use and has a purpose-oriented design, and it is suitable for users who have zero programming skills, and advanced developers. The website also includes a large collection of elegant predesigned pages that you can use for different purposes.
This wedding template website also includes two fantastic bonuses that are included out of the box: a printable wedding invitation template and 23 HD video tutorials. It contains all of the features that you would expect from a wedding theme, like an RSVP form, a countdown timer, a guestbook, lots of widgets, and an image slider. The drag and drops page builders make it simple for non-coders to create this site, and developers will appreciate the customization options and features that are included on the site.
Wedding Day features boxed or full-width layouts at multiple resolutions. The design of this wedding WordPress theme has feminine touch, and there are plenty of wedding-themed icons and a feminine color palette. The circular shapes and rounded font styles that are included in the invitation template are perfect for introducing the theme.
More info / Download
View Demo
5. The Aisle – Elegant Wedding Theme
Aisle is a fantastic modern wedding WordPress theme.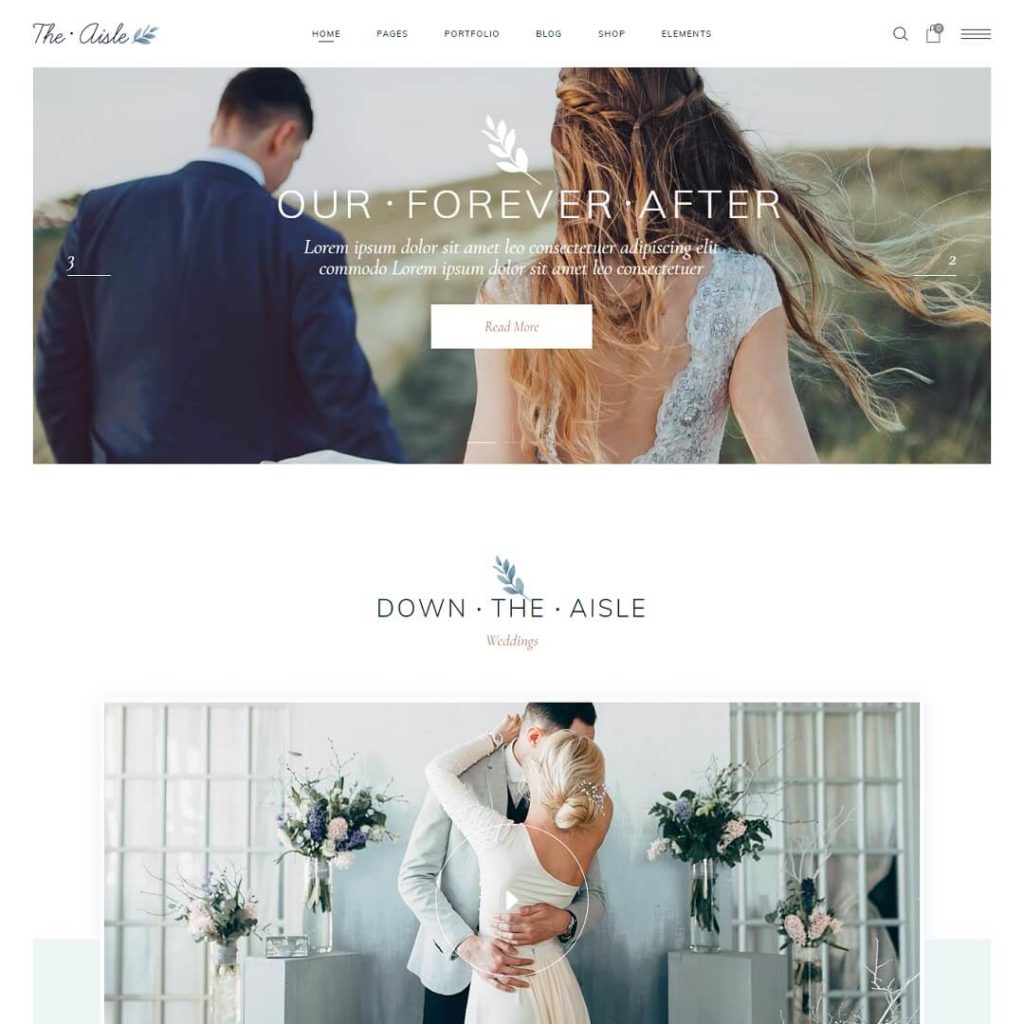 Come and walk in the aisles! This is the perfect theme for wedding planners, and it comes with all the resources you could ever need for your wedding website. These pages consist of a vast range of charming, predesigned home and interior pages. They are suitable for wedding announcements, photography and gallery pages, wedding invitations, rsvp pages, and many other matrimonial themes.
One of the most popular Aisle romantic wedding WordPress themes is a perfect choice not only for couples who are getting married but also for wedding planners who want to present their services. The theme features several homepage templates and plenty of inner page templates, so you can announce that it is about to happen, create a virtual invitation, share information about the venue, and more. If you are a wedding planner, then you can take this theme one step further and create a beautiful shop.
This shop will contain wedding planners, cakes, invitations, thank you cards, and any other items that you need to plan a perfect wedding. This Aisle theme also includes a drag and drops page builder. As a result, you can customize the pages and create your layouts. A powerful admin panel is a tool for tweaking colors, fonts, backgrounds, and more.
It is a powerful wedding WordPress theme that is also responsive, and it has tons of shortcodes for adding tabs, accordions, social feeds, and other elements. It also has social media support and lots of other features that can help you to create a powerful wedding website.
More info / Download
View Demo
6. OneLove – The Elegant & Clean Multipurpose Wedding WordPress Theme
OneLove is a clean and elegant wedding theme.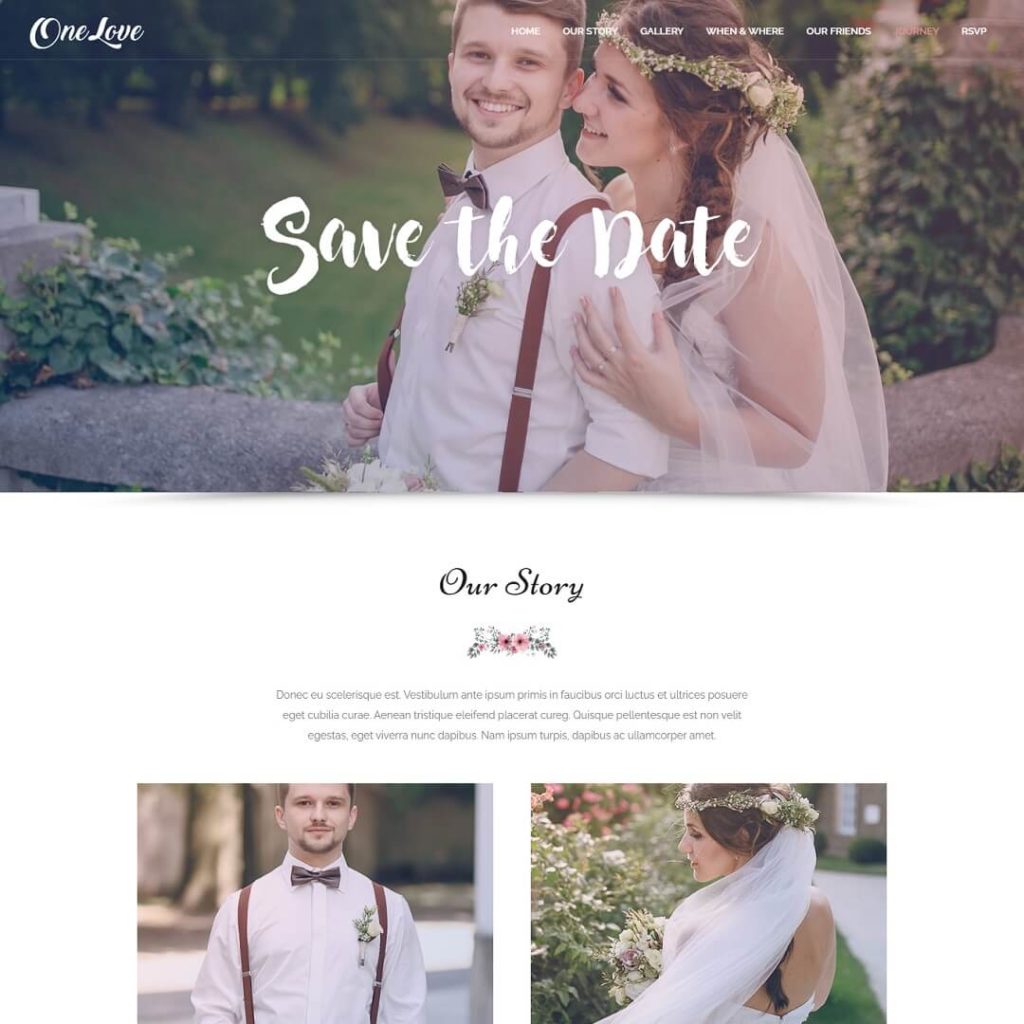 It has multiple ideas and purposes with 22 homepages to serve you in any kind of wedding industry. These are homepages for your wedding, marriage anniversary, wedding planning agency, wedding planner, wedding shop, wedding blog, and any kind of wedding industry. It will help you stay connected with your guests, write more about your wedding, or even share your happy moments with the help of your wedding web form, countdown, slideshow, video slider, photo gallery, and much more.
If you choose one love, you can easily change the colors of virtually every element, change the font, and choose from 500+ Google web fonts that you can choose from in our theme options. When you integrate demo data to build faster your pages, you can easily make your page faster and without knowing any coding, by importing it with a single click.
This is a clean and multipurpose wedding WordPress theme that allows you to create a website that shows that you are in love with two people. It is beautiful and professional. One of the reasons why this is considered to be a versatile wedding theme is because of 21 unique demo homepages. Therefore, you can choose from a wide range of layouts and some of which are focused on unique occasions such as wedding anniversaries and wedding announcements.
Generally, demos are for newlyweds who want to share information about their upcoming events. If you do that, then you might consider a one-page design, where the page layout is just as detailed as the homepage. Or, you might consider another option, like parallax effects. You can even set up an online store and sell wedding rings, clothing, or decorations.
All your online shops will be powered by WooCommerce, so you need to install that plugin. One of the main reasons why recently engaged people prefer the OneLove wedding WordPress theme is because the unlimited portfolio and gallery options are provided. Weddings are very photo-intensive, so it makes sense to have lots of large galleries, plus beautiful viewing areas. The theme also has some interesting inner pages to tell everyone about the bridesmaids and groomsmen.
You can all share a price table if you have a wedding business, or tell them about your story as a couple. Each person that purchases OneLove theme will receive a visual page builder that will ease the building of your site. In this section, you can create headers, import your theme, make your site responsive, and insert a customizable RSVP form.
OneLove is a very affordable and highly flexible wedding theme that you should check out.
More info / Download
View Demo
7. Fleur – Wedding Theme
Fleur is a brilliant romantic wedding WordPress theme.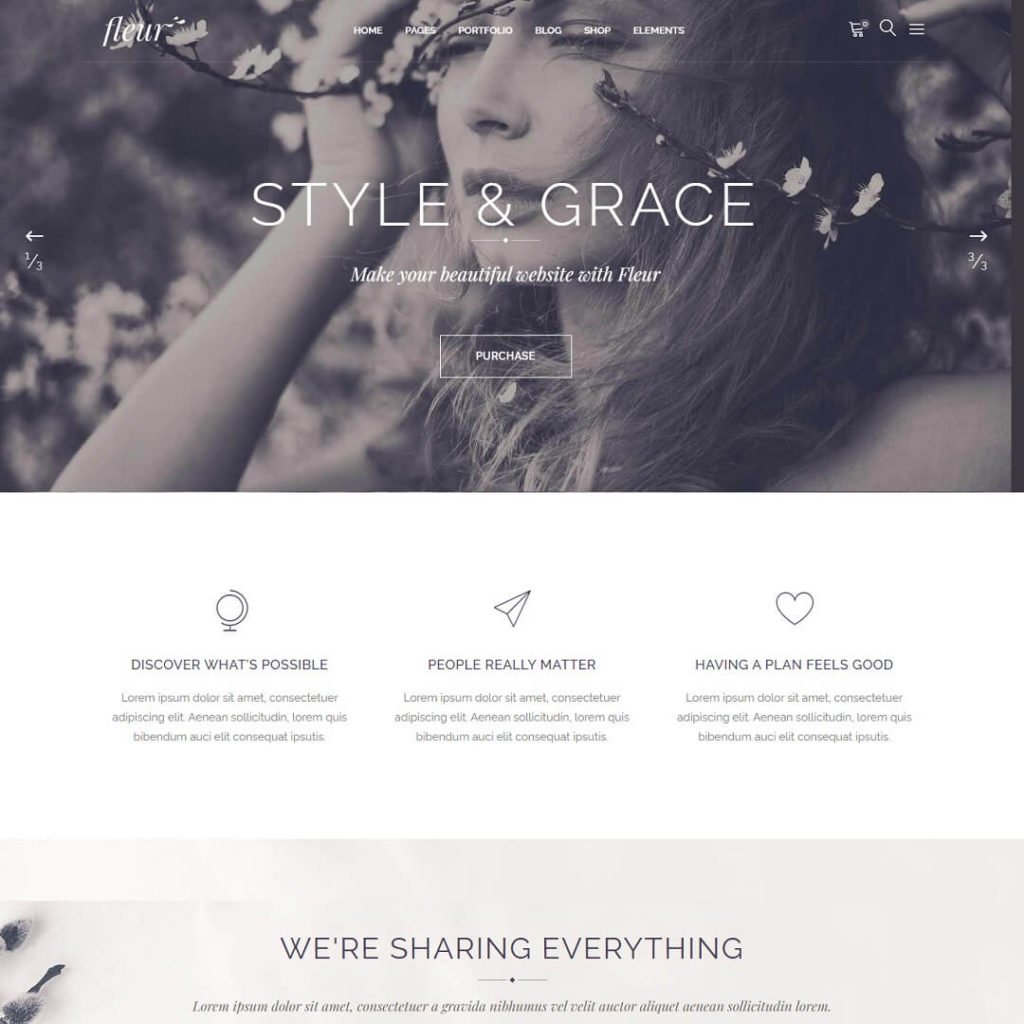 Everybody wants that their special day will go smoothly, and with no hitches. That is why they turn to you. If you are a wedding planner or a part of the wedding industry in some other way, Fleur is the best choice for you. If you are like that, you will have a superb website that will help you get noticed. We have assembled a huge array of home and interior pages, with powerful elements and practical features, and you can showcase any aspect of your wedding business.
With Fleur WordPress theme for event management, you will be spoilt for choice. It comes with 13 beautiful homepage layouts so you can not only announce that your wedding is about to take place, but you can also use this theme for a wedding planner or any type of business that offers bridal and wedding services and products. The theme uses an elegant typeface and lots of white space, to make it easier for people to focus on important information.
There is also plenty of space for you to post images and your comments, or to add an rsvp form. The free theme comes with a powerful admin panel. With this panel, you can easily change fonts, colors, and other visual elements, so that you can easily personalize the theme. Your feeds will also be completely integrated with Google Maps and allow you to add various social media feeds to your feed.
Aside from that, this wedding WordPress theme is also responsive and retina ready and even allows you to have video backgrounds.
More info / Download
View Demo
8. Wedding Planner – Responsive WordPress Theme
The Wedding Planner is a Responsive WordPress theme.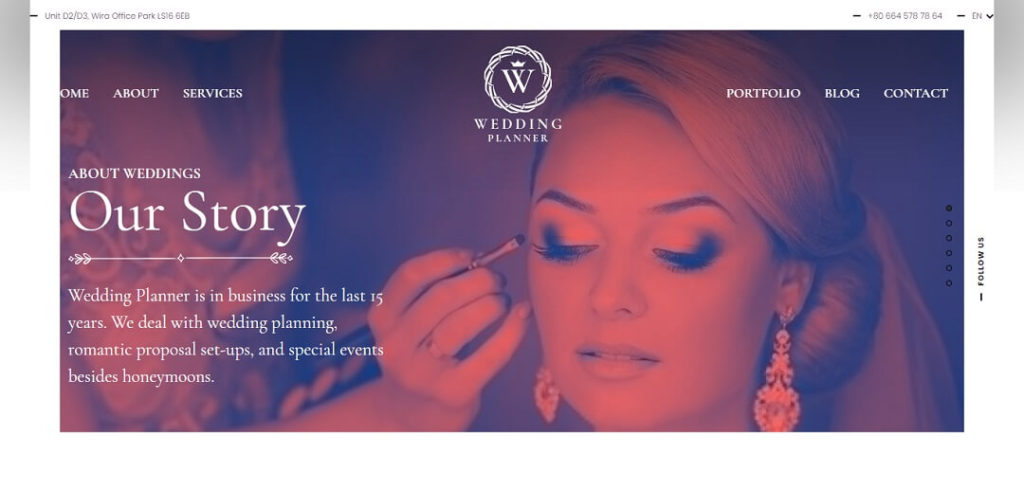 It is well-suited for wedding planner websites. This is a modern, elegant, and creative theme for weddings and other engagement events. Stylish and beautiful, it is a very nice wedding WordPress theme for couples who want to create their wedding websites without knowing how to code. Do you want to make sure that everyone sees your wedding in the best light? Then a neat and pleasing Wedding Planner WordPress theme that looks good is your match.
Subscription to a newsletter is a good way to keep your visitors updated on all the latest news that you publish on your site. Google Maps integrated into your mobile phone will help people find your location in the blink of an eye. Take advantage of our WordPress page builder and the custom modules that it offers to create a smooth and powerful experience for your online presence. You are allowed to bring new life to your site by using advanced theme options.
Then you should inform the world about your top-notch event using this Wedding Planner WordPress theme. It offers a responsive design with eight homepages, over 20 regular pages, and the choice between a one-page display or multiple pages. There is an option to create a website for a wedding or matchmaking agency.
It is a nice and sleek website that you love and you can send your love and information to your friends and relatives on a beautiful website. It is easy to install the app because the developers have included a video that walks you through the installation. If you would like to present your wedding in the best light, then the wedding planner theme is certainly a must.
To get started, it is linked up to an email subscription form and a service like Mailchimp. By doing this, you will be able to send out email updates to your visitors, and you will be able to inform them about the changes that have happened during the event. You can also add a google map to your website so that people know where to go to the church or the reception.
When you bundle the Wedding Planner website design, the WordPress page builder is included. When you drag and drop elements, you can put them in their place, without worrying about coding. Combining the advanced themes with these options, even beginner developers should be able to create beautiful websites.
In addition to the wedding demo, you also have access to some alternative demos. You may decide to start selling bridal gowns and accessories. In that case, the Wedding Planner theme comes with a full demo for that purpose. You will also find a demonstration of the featured events menu, which will simplify the website so that it becomes more like an events calendar.
All the pre-built inner pages that you have included are what make the Wedding Planner theme easy for you to design. On that page, there is a page for testimonials, a page for a contact form, and another for showing people who are members of your team or who attended your wedding party. A portfolio of my work and some cool blog layouts.
This is a very good place to start when you are searching for wedding themes.
More info / Download
View Demo
9. Celebration – Wedding & Class Reunion
Celebration is a WordPress theme for celebrations.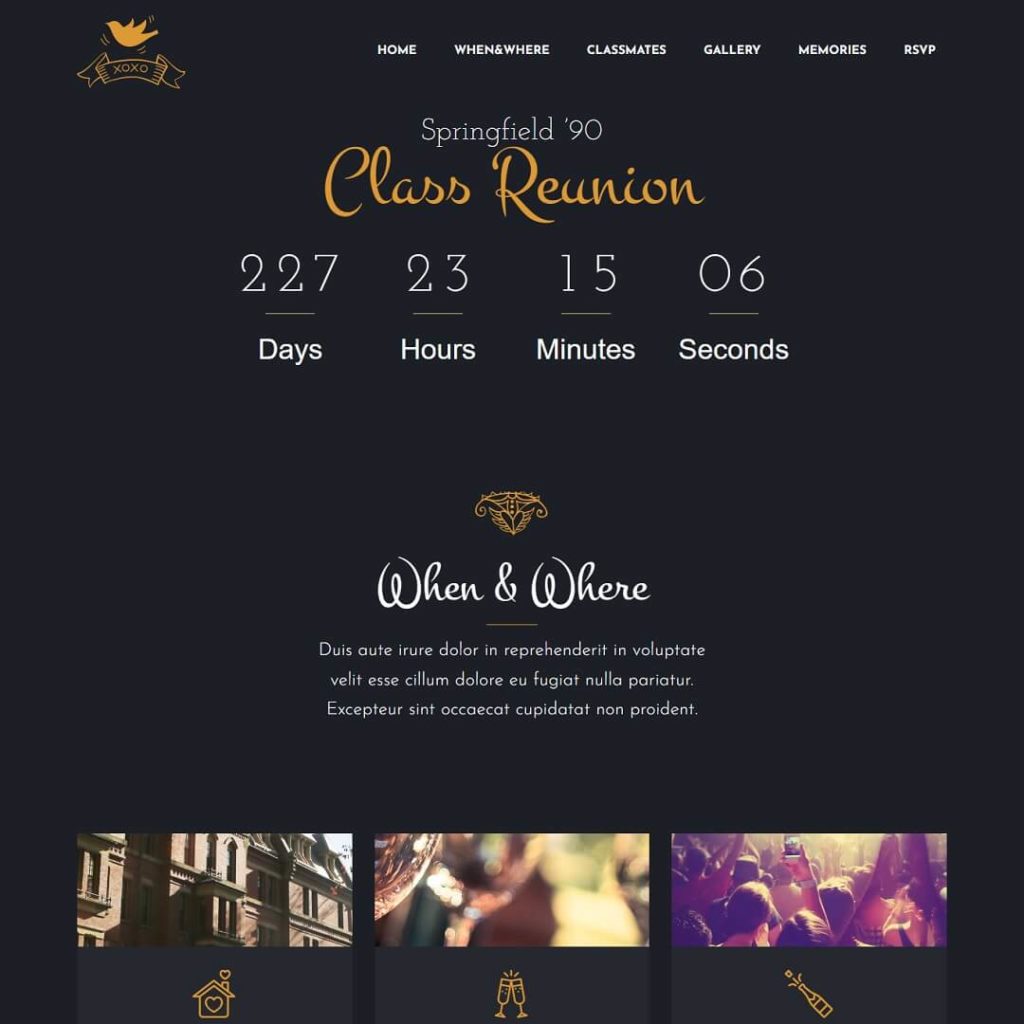 It can be used for weddings and class reunions. The iPhone app is fully responsive, retina-ready, and easy to customize. Celebration has a complete options panel, unique page transitions, and distinct typography. There is also a very easy-to-use and fast page builder. It reacts elegantly to various screen sizes, and it has been tested for use on all devices, from large desktops to today's mobile devices.
All our products come with free updates and free support from our highly acclaimed team. When it comes to celebrating anything, Celebration wedding planner website design features are a perfect fit for any celebration, like weddings and class reunions. It is also possible to use it by wedding planners. It is a gift that is very suitable for celebrating a special occasion. It is packed with carefully selected and crafted features. All content of Celebration is ready for you to use.
By clicking and importing content, you can get your website ready within minutes. Images on theme demo sites are not licensed to be used on production sites. If you plan to use any of the images in the demo on your site, you must license them separately. If you are looking for a theme that does not require any coding, and which comes with an unlimited number of layouts, then look at Celebration wedding planning theme.
This wedding WordPress theme includes some great demos, and it has an import tool that is easy to use. By importing it, you can be able to start giving out the information about your wedding in just a few minutes. The use of a custom icon is set to improve your visuals immediately, and the cost calculator plugin is essential for getting an idea of how much money will be spent on the wedding.
The WooCommerce online shop is a valuable tool when you are trying to present your wedding registry to people. The layout is completely responsive so that visitors can see it all no matter what type of device is used to view it. Typeface and color are also handled in the backend, so you have lots of options to choose from for your branding strategy.
Allocate the menus and headers in any format, and include the buttons to allow people to receive the information on the platforms that they use daily. Users can pay by rsvp through your site, without the need for cards. You can also set up a blog and discuss what is coming, and share some photos in galleries, whether they are from the reception, honeymoon, or before it all starts.
Times of the Week are displayed right on the homepage. There are five rows of parallax backgrounds, to grab people's attention and help you look more creative. Also include an Instagram gallery so that you do not have to update multiple locations. And in a few of the modules, add an explanation of how you met that special someone. This wedding planner website template is very clean and stylish, so we can recommend it to nearly anyone.
More info / Download
View Demo
10. Eternity – Responsive Wedding WordPress Theme
Eternity is an elegant and beautifully hand-crafted responsive WordPress theme for weddings.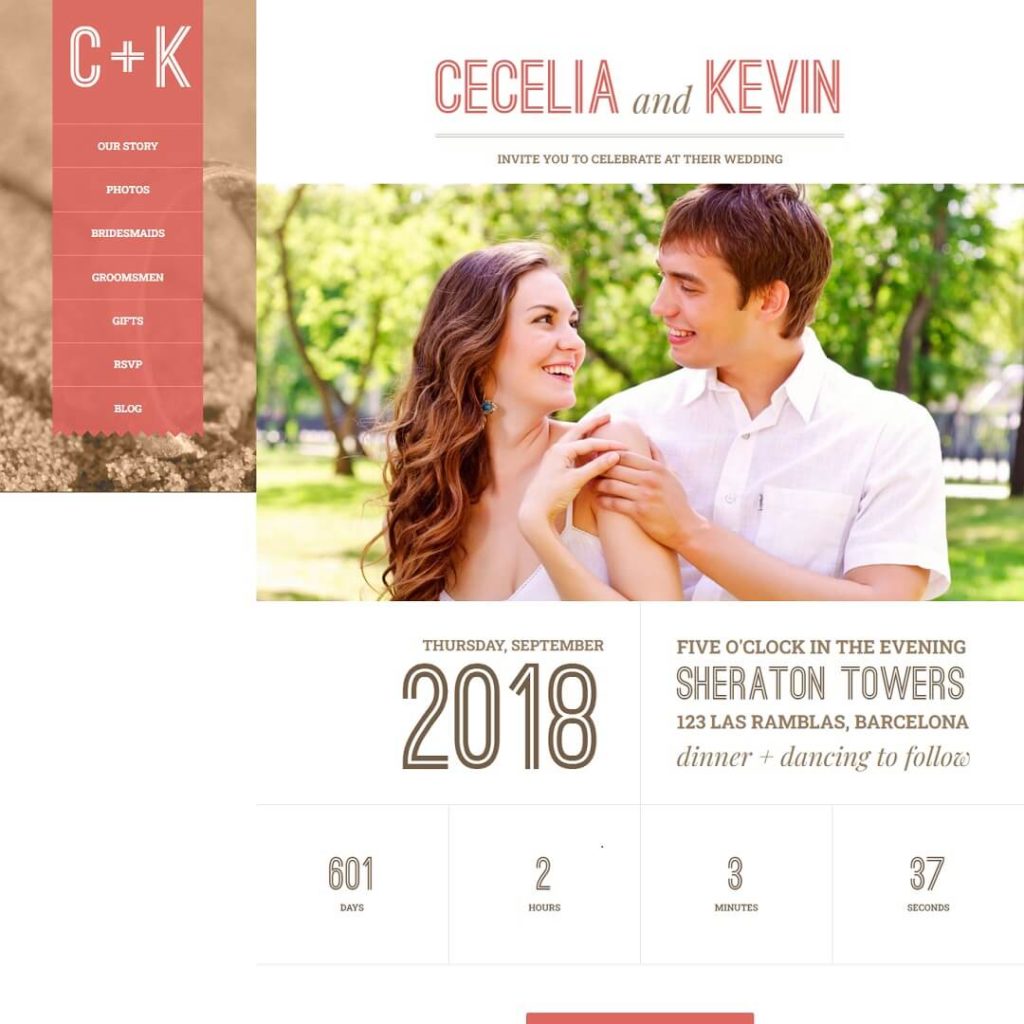 The building blocks of the platform are powered by the Foundation framework, which makes it a breeze to create any kind of layout that you wish.
This wedding planner website template also features a very simple-to-use RSSP form, smooth scrolling, a lightbox photo gallery, retina-ready images, Google Map integration, and much more.
More info / Download
View Demo
11. Love Story | A Beautiful Wedding and Event Planner WordPress Theme
Great Story is an elegant, stylish and alluring wedding and Event Planner WordPress theme.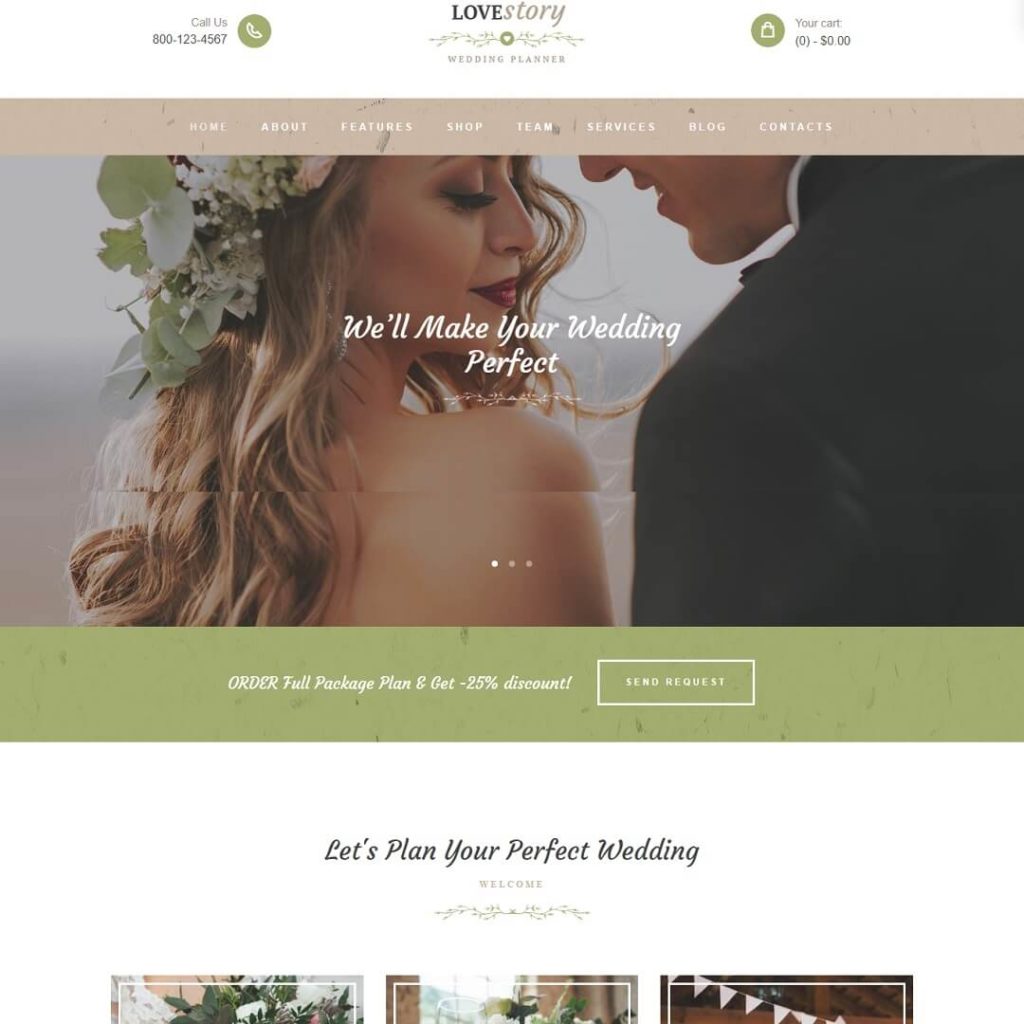 It has a fashionable and tender design. This form is useful for a wedding planning agency or a freelance wedding planner firm. The forms are also suitable for events and parties, birthdays, business meetings, conferences, and training. Some people use the website for catering, decoration, restaurant, bouquets and florist stores, event arrangement, ceremony planners, beauty blogs, gift shops, and others.
All the themes available on this site are compatible with the Woocommerce plugin. It has been made compatible with WPbakery. Also, Great Story wedding planner website template is compatible with such plugins as Revolution Slider, and Essential Grid, to make it easy for you to set up a wedding planner website.
Every marriage has a love story behind it, and this wedding WordPress theme tries to present that tale by using beautiful typography, images, and a stunning design. The theme links to Woocommerce, a platform for people who want to create an online wedding store. It is possible to make this theme for selling online.
You may also be able to make it for an announcement or a wedding page. It is a multipurpose theme that has a one-click demo installation process. Your mobile optimization is one of the smoothest that we have seen, and the homepage layouts are fully integrated with the WordPress Page Builder plugin. You can also use these visual tools to drag and drop objects including headers, text, and contact forms.
The wedding WordPress theme also includes two kinds of sliders: the Revolution and the Swiper. Both are supercharged versions of regular sliders. They allow you to create highly customizable experiences. A primary reason we like this WordPress theme for weddings over others is because it includes translation options. So, if you have friends or family members who do not speak your language, you can always change the rules and procedures for them.
In the upper right-hand corner of the page, you will see a shopping cart. Then, your customers will know where to find the checkout, and they can see what items are still in their shopping carts. In the menu, you can display your contact information and link to a beautiful blog. There are several layouts for this blog.
It is useful to have inner page templates so that you can choose one template to talk about the members of your team, and another template to show off your services and products. A module for collecting testimonials is also available. So, all you need to do is ask some of your customers about what they experience, copy that information and paste it into your backend.
Some companies might also find that the pricing table is useful because you can add images, titles, buttons, and features to certain packages that you are selling. Along with an email subscription form and a built-in contact form, this wedding planner website design has quite a few features for your online wedding store.
More info / Download
View Demo
12. Plan My Day | Wedding / Event Planning Agency WordPress Theme
Plan My Day is an amazing couple website template.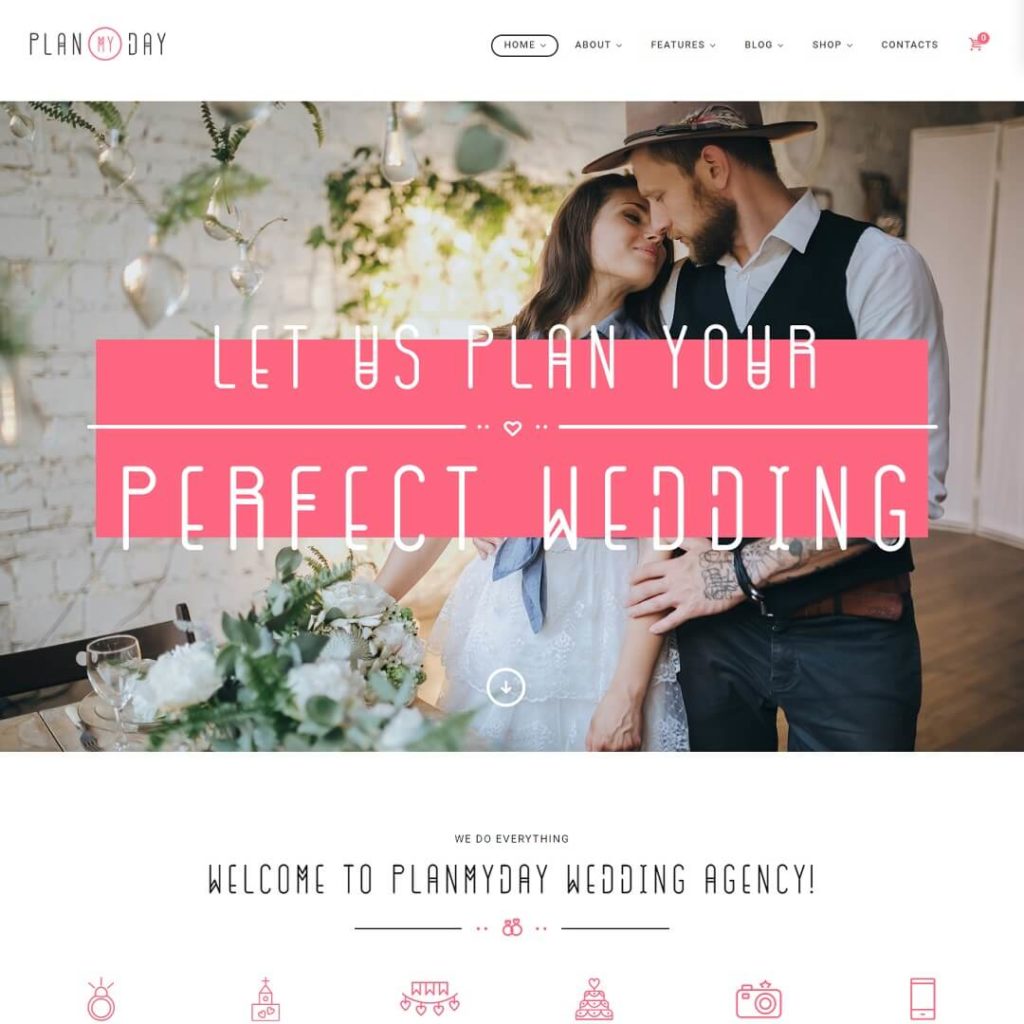 It is a clean, flat, and modern site themed on Weddings. This is a great wedding planner website design for wedding invitations and engagements. It is compatible with smartphones and tablets. If you have questions or run into any problems, you can submit a support request, and we will answer your question within 24 hours, on weekdays.
It is easy to use and the video tutorials are very helpful. Besides, it is fully responsive and retina ready. It has support for child themes. Built using valid HTML5 and CSS3 and valid CSS3. This theme allows unlimited images and slideshows. There are 6 demos. It is WooCommerce compatible.
The Frontend Uploader enables you to allow your guests to upload photos from your party. Your solution is 100% compatible with Contact Form7, WooCommerce, Unyson, Gwolle Guestbook, Frontend Uploader, RSVP and Event Management Plugin, Polylang, and other plugins.
More info / Download
View Demo
13. Wedding Event – Everline WordPress Theme
Everline is a WordPress theme.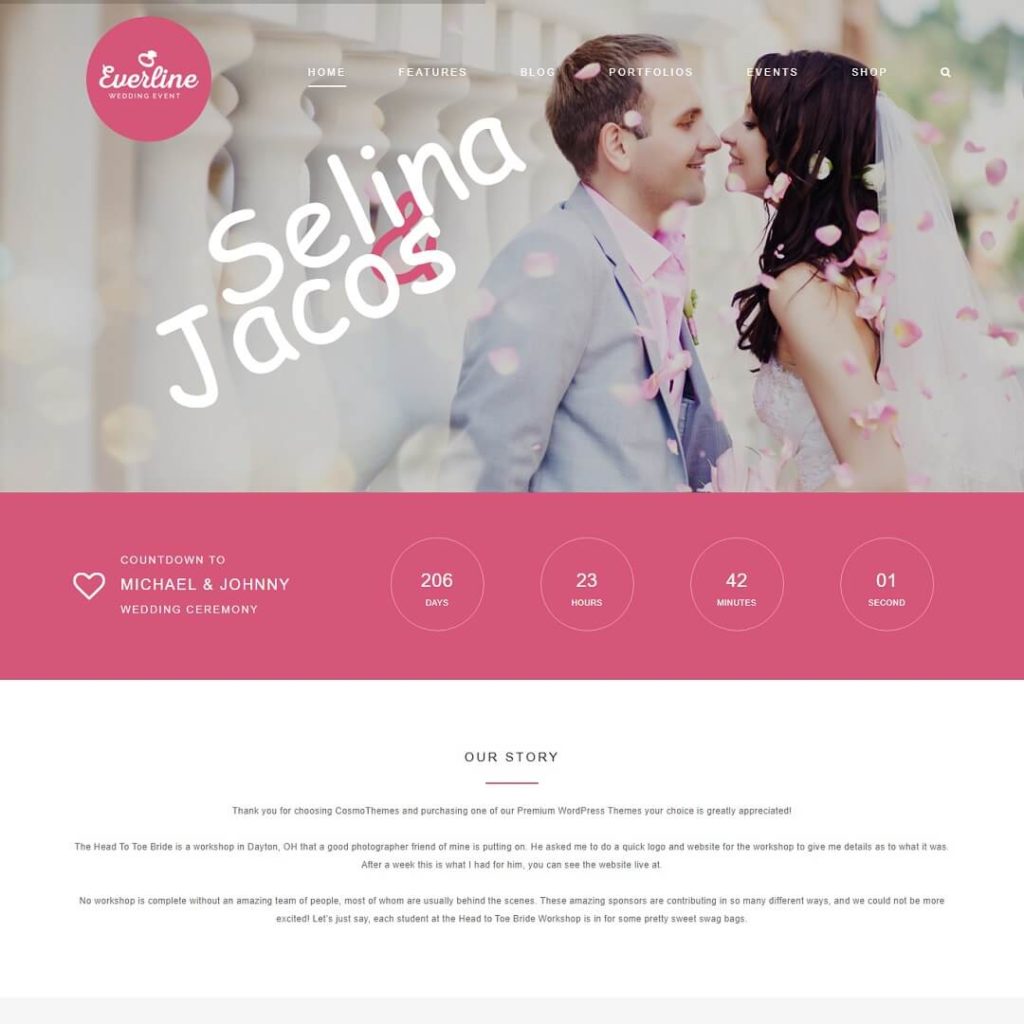 It comes with a stylish and modest appearance. It is an elegant WordPress theme for weddings, engagements, and other types of events. Its beautiful beauty, its fashionable clean and tidy look, and proper execution, together with the use of the page builder for WordPress, woo-commerce, wpml, events calendar, and the Revolution slider plugin, will help you to have an awesome wedding site for your special day.
Everline supports RTL and automatically scales to the screen size of your device, and displays the contents in a very intuitive and simple way. It is a fully responsive WordPress theme. It is compatible with Bootstrap, so your template will adjust automatically according to the size of the screen of the device. And your content will be displayed simply and intuitively.
When you have five home versions, it is not difficult for you to have an interesting website. Different styles and layouts. The home boxes right to left are also supported. You can enjoy this right now! Create a responsive or fullwidth slider that you can use with must-see effects. At the same time, keep or improve your SEO optimization.
This wedding WordPress theme gives you a drag and drop page builder for your websites. Woocommerce is one of the most popular WordPress e-commerce plugins. Also, it is available for free. Full of awesome features and perfectly integrated with your WordPress website.
Everline couple website template comes with a mega menu that is included in the theme. It is perfect for large menus. You are allowed to put any content in dropdowns: links, texts, images, and shortcodes.
More info / Download
View Demo
14. Lily – WordPress Wedding Theme
Lily is a beautifully handcrafted responsive romantic wedding WordPress theme for weddings.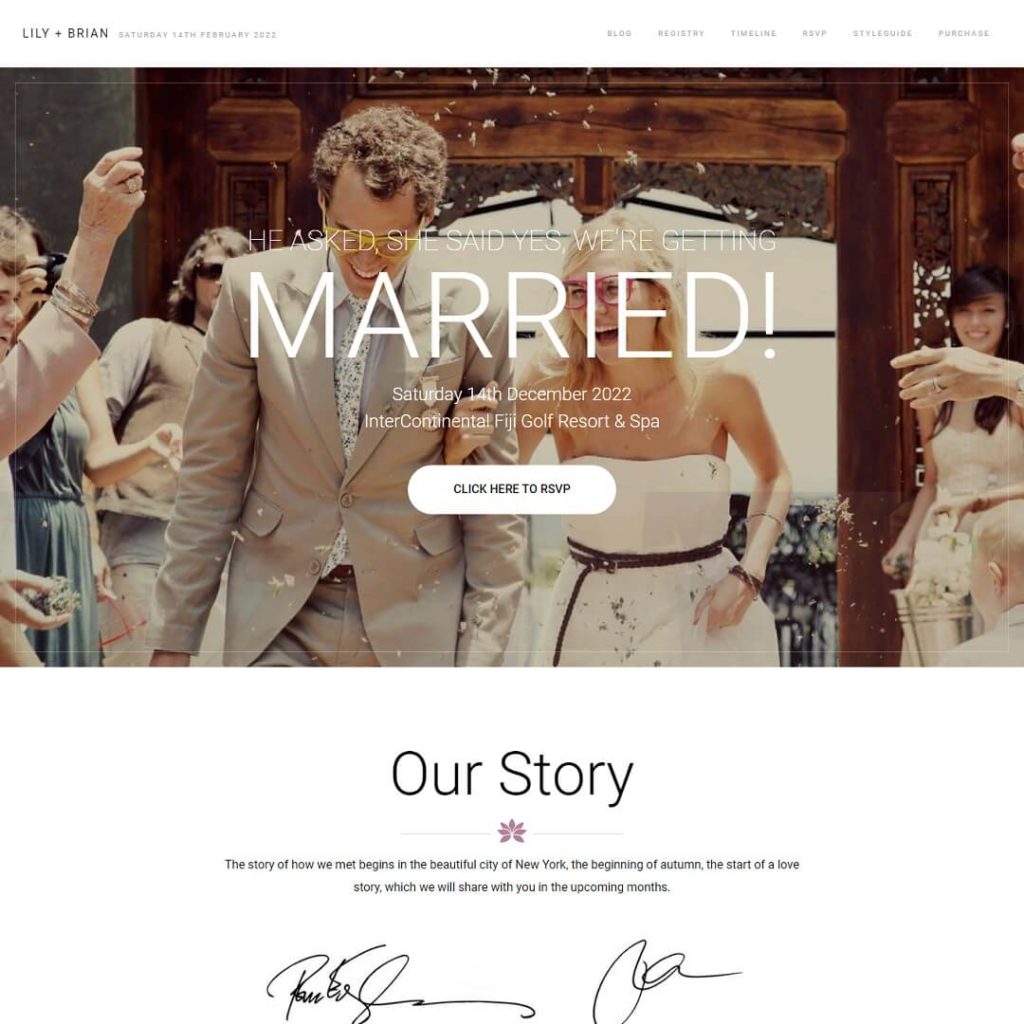 So, with a large number of WordPress features, you can be certain that you will get the wedding website that you deserve in just a few minutes. The responsive design of this theme ensures that your website not only looks good but also fully works on phones and tablets. You can change events, images, forms, and more.
This wedding planning theme is completely customizable and you can use it to cater to a specific niche. The theme comes with a .pot file which you can use to translate the theme to your very own language.
More info / Download
View Demo
15. Sweetinz – Creative OnePage Wedding WordPress Theme
Sweetinz is a clean and elegant one-page WordPress theme for weddings.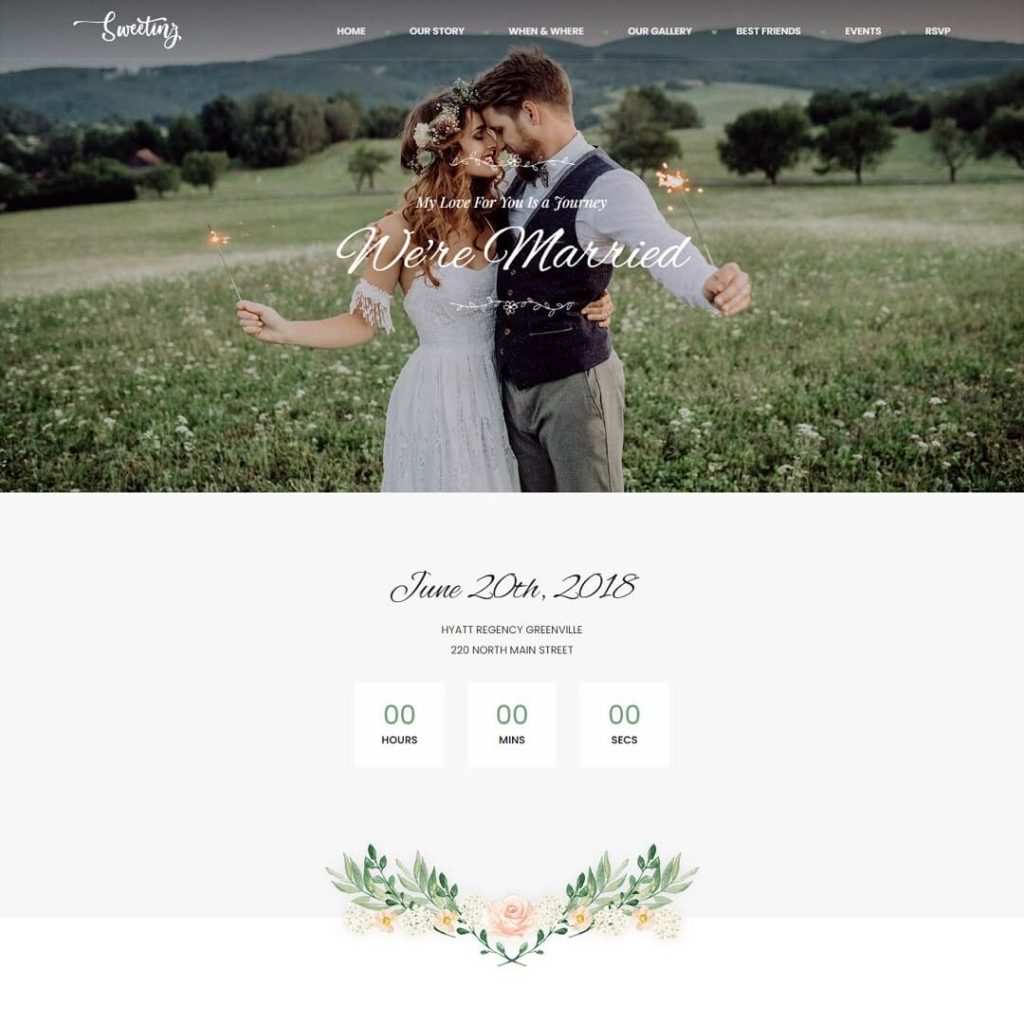 It is designed and developed perfectly for couples who want to create their wedding website. Sweetinz is a website with 5 color schemes: green, pink, orange, purple, and red, and you can select your color schemes from the color picker to make it more appropriate for all activities. It is very easy to set up and even easier to use.
Sweetinz offers other features, such as a countdown timer, couple timeline, location map, rsvp, groomsmen, bridesmaid, gift registry, and many more. It has a fully responsive structure that is built with the Bootstrap Framework. It is retina ready, and it looks beautiful on all kinds of screens and devices.
More info / Download
View Demo
16. Gretna Green – Wedding Theme
Gretna Green is a mesmerizing wedding planning theme.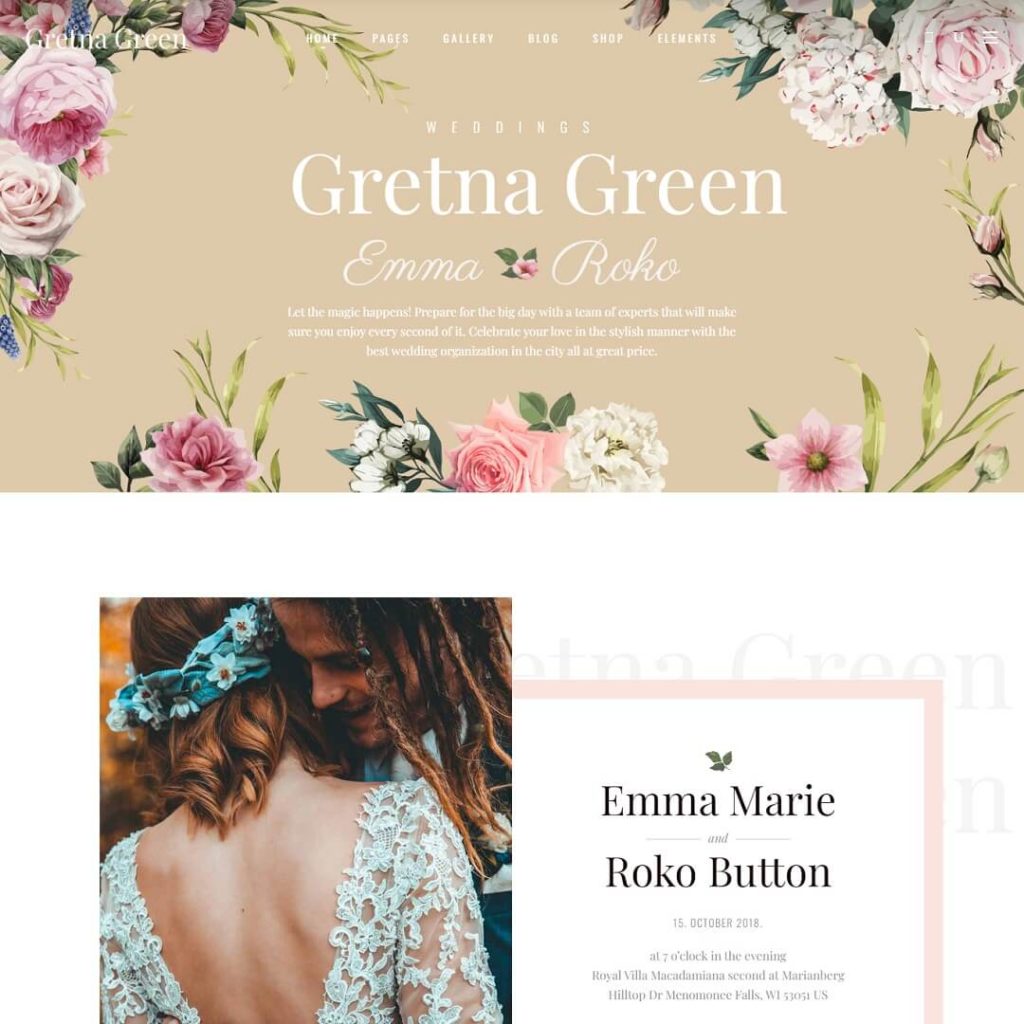 Special moments deserve special WordPress themes. Created elegantly and gentle color palette, Gretna Green is one of the best examples of what is right for you to do. has all you need for a perfect wedding organization. Packed with a stylish gift registry, invitation card, RSVP form, and a collection of wedding layouts, Gretna Green is one of the best examples of what is right for you to do.
Easy to use – no need for coding. Admin Panel that is powerful. There is a large collection of home and interior pages. Import a demo site into your web server with one click. Moreover, this theme is responsive and retina ready. It has multiple typography options, too.
More info / Download
View Demo
17. Alis – Wedding Planner
Alis is a wonderful unique wedding WordPress theme.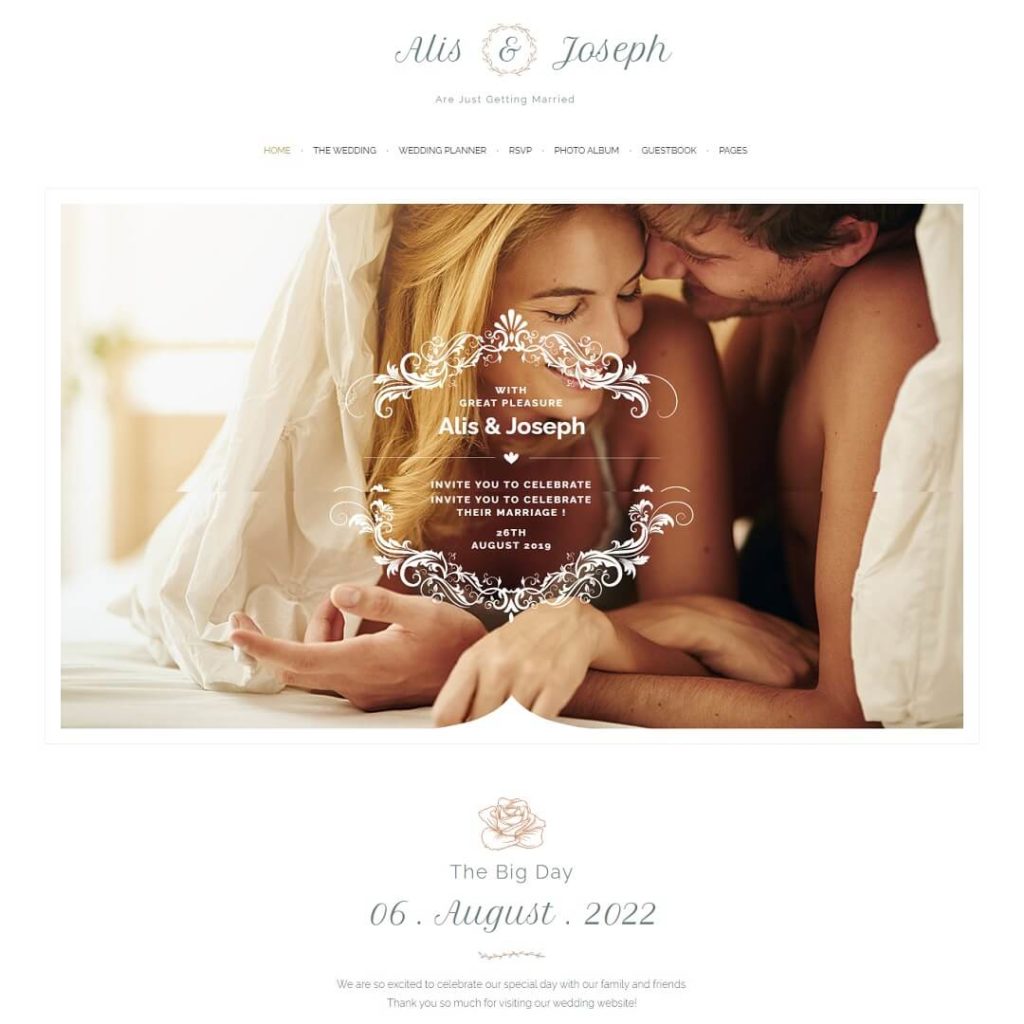 This very lovely niche wedding planning theme is designed to be suitable for weddings and wedding planner businesses. It is easy to use and has a purpose-oriented design, and it is suitable for users who have zero programming skills, and advanced developers. A vast collection of elegantly-designed pages that you can use for various purposes such as wedding announcements, photography and gallery pages, wedding invitations, guestbook, and RSPV pages.
You can add the wedding venue locations to the map. It is also possible for you to set up a gift registry. Timely support – we get a response from you within 8 hours. It has a Front End Beaver Builder, Inc. It also contains a very detailed setup guide. Its page-load performance is exceptional and straight out of the box. There are specific niche-based design and functionalities.
Absolutely no coding knowledge is required. A dedicated mobile responsive design.
More info / Download
View Demo
18. Grand Wedding WordPress
Grand Wedding is a responsive clean WordPress theme for all wedding-related websites.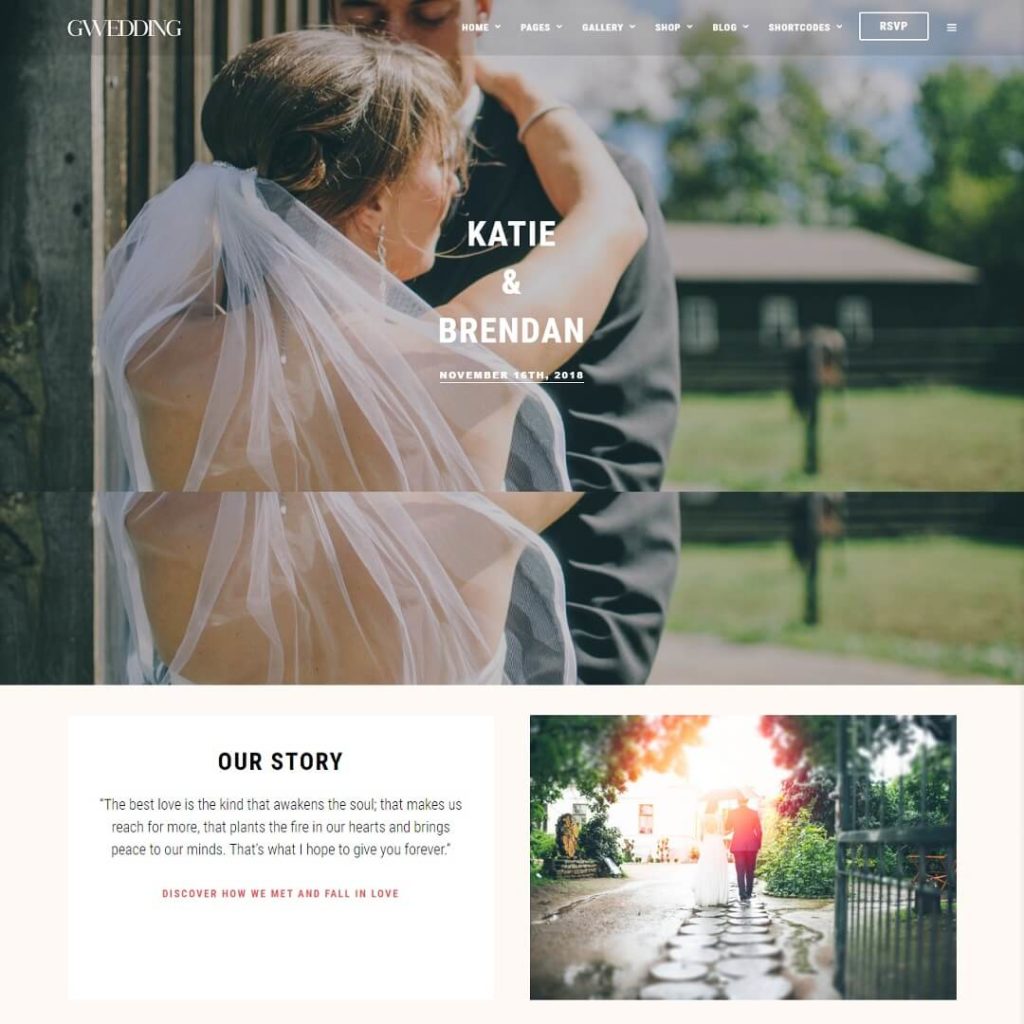 It is built with the most up-to-date WordPress technology. It supports responsive layout so it looks great on all devices. It has predefined styling and templates and many other features built for weddings, wedding planners, engagements, invitations, and events. And all those features can be imported in one click.
It is very important for wedding and event websites to clearly show guests the information that they need, especially when they ask where. That is why we focus on creating predesigned pages for wedding and event websites including wedding announcements, wedding invitations, wedding planners, wedding photographers, wedding venues, and many more.
Furthermore, we have simple steps to create our pre-defined pages and our content builder. Because it is very important that you showcase your work and that you will display your portfolio successfully, we focus on creating different predesigned templates for your photo gallery and portfolio so that they can fit your style.
A few simple steps are required to create our pre-defined templates. We allow you to tell your stories using our smooth parallax scrolling and rendering performance of 60fps. Make your website more attractive to your visitors by implementing video parallax. We want you to have the best all-in-one wedding website, so we have prepared, our story, rsvp, and many more pages for you.
You can easily import them using a click of a button. The most important part of a wedding and event website is to provide information about where it takes place and how to find the venue for that event. For example, a hotel is a good venue for a wedding.
This unique wedding WordPress theme can display all these maps, map locations, and hotel information beautifully.
More info / Download
View Demo
19. Avala – Wedding & Event Theme
Avala is a lovely wedding WordPress theme.
It is perfect for weddings and events. This beautiful theme is elegant, stylish, sensual, and warm. You will have a perfect theme for whatever you choose to do for your wedding or your event. This WordPress theme features homepages created specifically for businesses that work with wedding planners, wedding dress designers, wedding photographers, wedding venues, etc.
You will be able to choose from 16 different homepage designs from Avala WordPress theme for event management, all of which are perfect for any other private events and celebrations such as weddings, birthday parties, and many more. It has 4 homepage demos: Autumn, Winter, and Spring with 4 homepages for each one and carefully designed inner pages for each one.
Avala WordPress theme is fully responsive and retina ready. Avala features an impressive admin panel, beautiful page transitions, and very attractive typography. Avala also offers a highly rated Cost Calculator plugin that is included with the theme. It includes an easy-to-use and fast drag and drops page builder called Bold that makes putting together web pages easy and fast.
With a click of a button you can easily import a demo website from another theme or with the help of the one-click import tool, you can create a fully featured website. You can start creating fully-featured websites by using the theme options and replacing the demo content with your own.
Avala is a beautiful WordPress theme that allows you to publish beautiful, fully functional websites very quickly. It features free updates and exceptional support after the sale.
More info / Download
View Demo
20. Kirsten – Clean Wedding Photography Theme
Kirsten is a beautiful and easy-to-use wedding planner website template WordPress.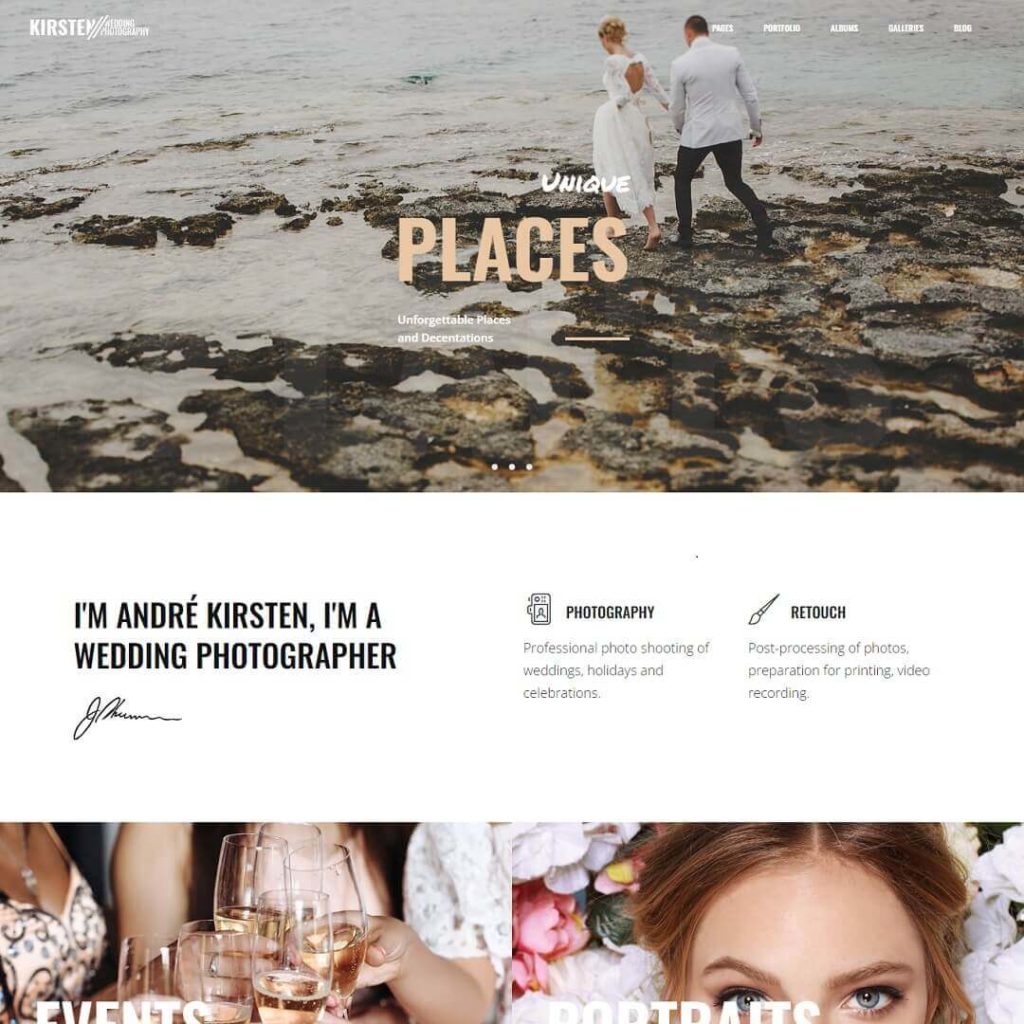 It is for a Wedding Photographer. It is easy to create a beautiful portfolio for your business. It is easy to provide a gallery of your work. Showcase your best work with different types of galleries and albums so that people can see how beautiful your work is.
This wedding event WordPress theme is perfect for photographers who want to showcase their best photos. It has multiple layouts and features a beautiful slider, galleries, and parallax effects.
More info / Download
View Demo
21. Dreama – Engagement & Wedding Planner WordPress Theme
Dreama is a beautiful and stylish couple website template.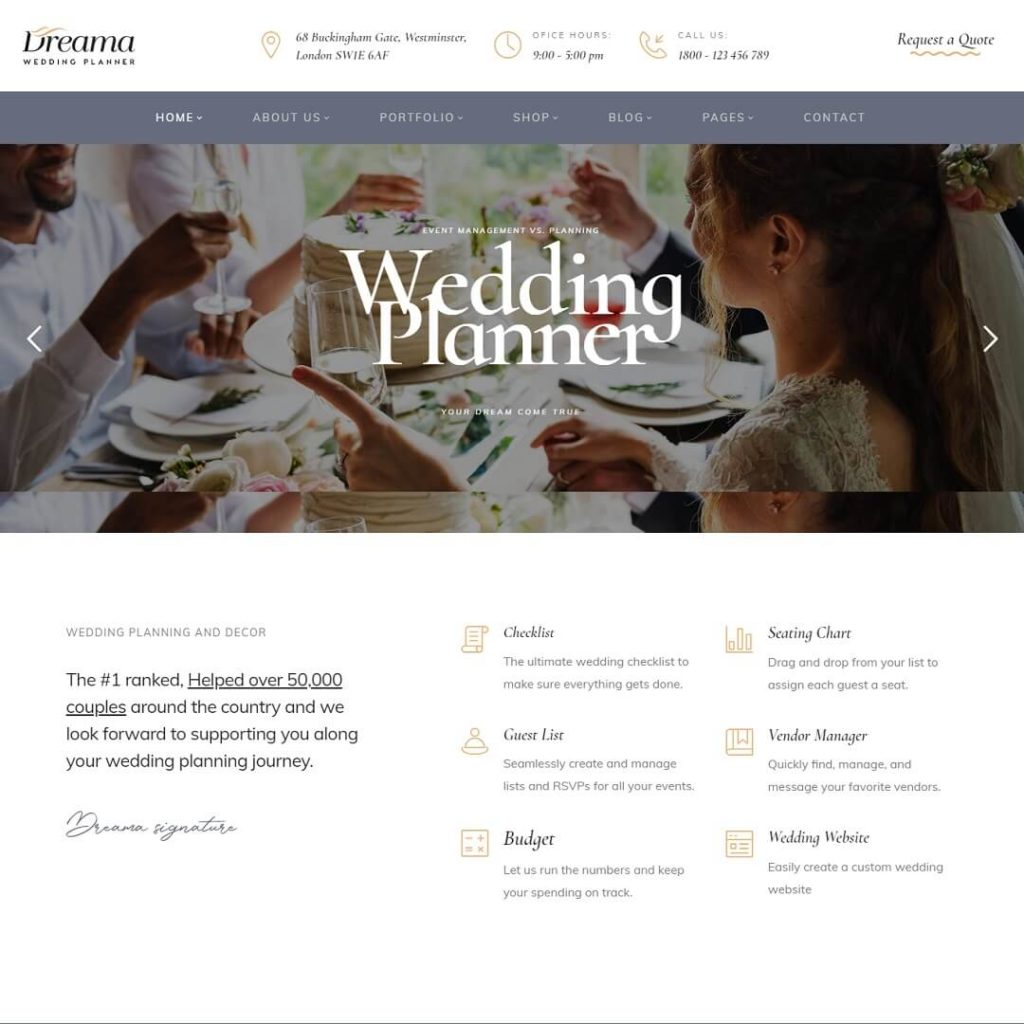 It is designed for Weddings and Celebrations. This elegant wedding WordPress theme is perfect to capture special moments in your love story or journey, or your wedding event and party schedule. It can be a wonderful Wedding Theme for a Wedding and Event Site.
Dreama is perfect if you are planning to become a wedding planner. It comes with everything you need to build your wedding website. It is fully responsive and features 20+ attractive pre-designed homepages and numerous more beautiful inner pages that can be used for different purposes.
Dreama is a beautiful wedding WordPress theme that makes planning a wedding incredibly easy! It uses Elementor Page Builder to help you build your dreamy website for marriage, so you can see what you have done in minutes! There are tons of different animations which you can play with.
When you use our powerful shortcodes, you can easily create a wonderful website in no time and enjoy your website for many years. What's special: it supports all major browsers! Using stunning layouts and designs makes it easy for couples to easily create their wedding website for their big day without having to know any HTML or CSS.
You can easily create many different appearances with different backgrounds and many different color schemes that you can create. If you are not happy with the theme, you can always change the look by using our easy-to-use Customizer.
You can easily customize it as much as you want, and change its look as often as you want. Dreama wedding planner website design has 20 beautiful pre-made pages and settings that you can add in a few seconds. These are just a few examples. You can easily change the headers, pages, and fonts by using the Theme Options Panel.
Share your sweet memories and let everyone enjoy the beautiful images! Share what you love most with your family and friends. Organize all of your images in photo albums and share them on social media! If you want to create a different layout for your website, you will be able to create different pages for your site.
It allows you to choose any of the designs that you like to showcase your unique wedding day. Just pick the one that you like the most to show off your wonderful wedding day. Engaging guests to fill out the wedding invitation form is one of the best ways for a bride and groom to be able to manage the number of attendants.
Thanks to the powerful flexibility of Contact Form 7, you can customize the form to suit your needs. You can add any information that the couples want their guests to fill in to help them plan the perfect wedding day.
Dreama wedding planner website template WordPress will help you create many beautiful, functional pages that will enable you to show your clients that you are a professional wedding planner. If you want to change the layout of your pages to suit your business needs, simply edit the pre-made layouts and create new layouts that fit your business.
You can establish your reputation by offering helpful wedding planning tips to others. Successful couples can also share their love story and wedding memories on your blog. You will get more clients who will appreciate your efforts and they will want to work with you in the future.
If you have not created your WordPress wedding website, we have made it for you.
More info / Download
View Demo
22. Nikah | Wedding Organizer & Planner
Nikah is a beautiful WordPress wedding theme.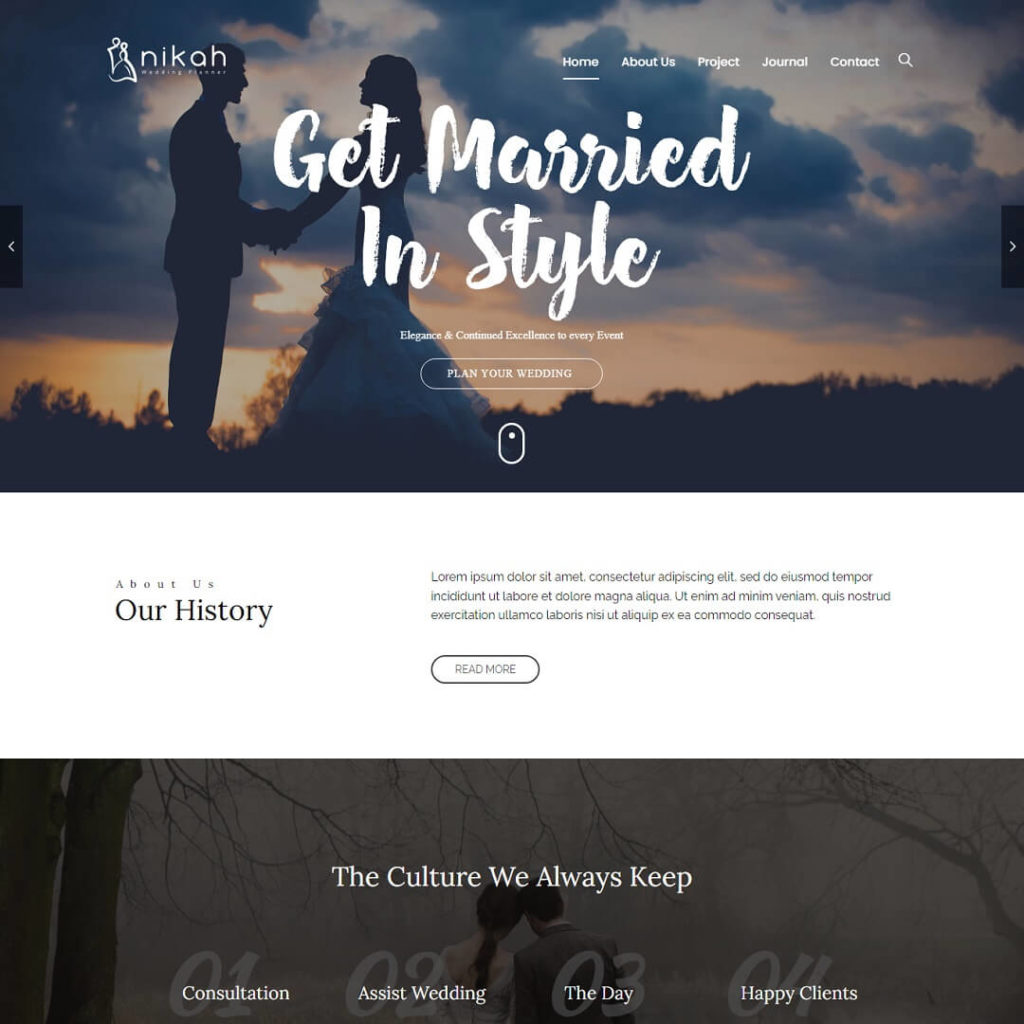 It will help you organize, plan and market your weddings. Nikah wedding planner website template WordPress is built with a drag and drop page builder that allows you to easily add pages and change the layout of the pages. This theme comes with an extensive theme options panel. It allows you to design the header and the footer of your website in many different ways.
It also allows you to customize every part of the page! Anywhere you want to place the posts, pages, or post types, it is up to you! Nikah allows you to easily show off all the amazing things that you have done! It is an easy-to-customize and fully featured WordPress theme.
It is easy for anyone to customize or set up this theme, but if you need some assistance or need some help setting it up, we are glad to help you. Contact us by using our support tab.
More info / Download
View Demo