The WordPress WooCommerce marketplace theme makes it rather smooth and fast for the potential sellers to create their own marketplace online. Any freelancer, entrepreneur, etc. can sell their products virtually.
The best WordPress marketplace themes built-in WooCommerce are given below.
1. Cartzilla – Digital Marketplace & Grocery Store WordPress Theme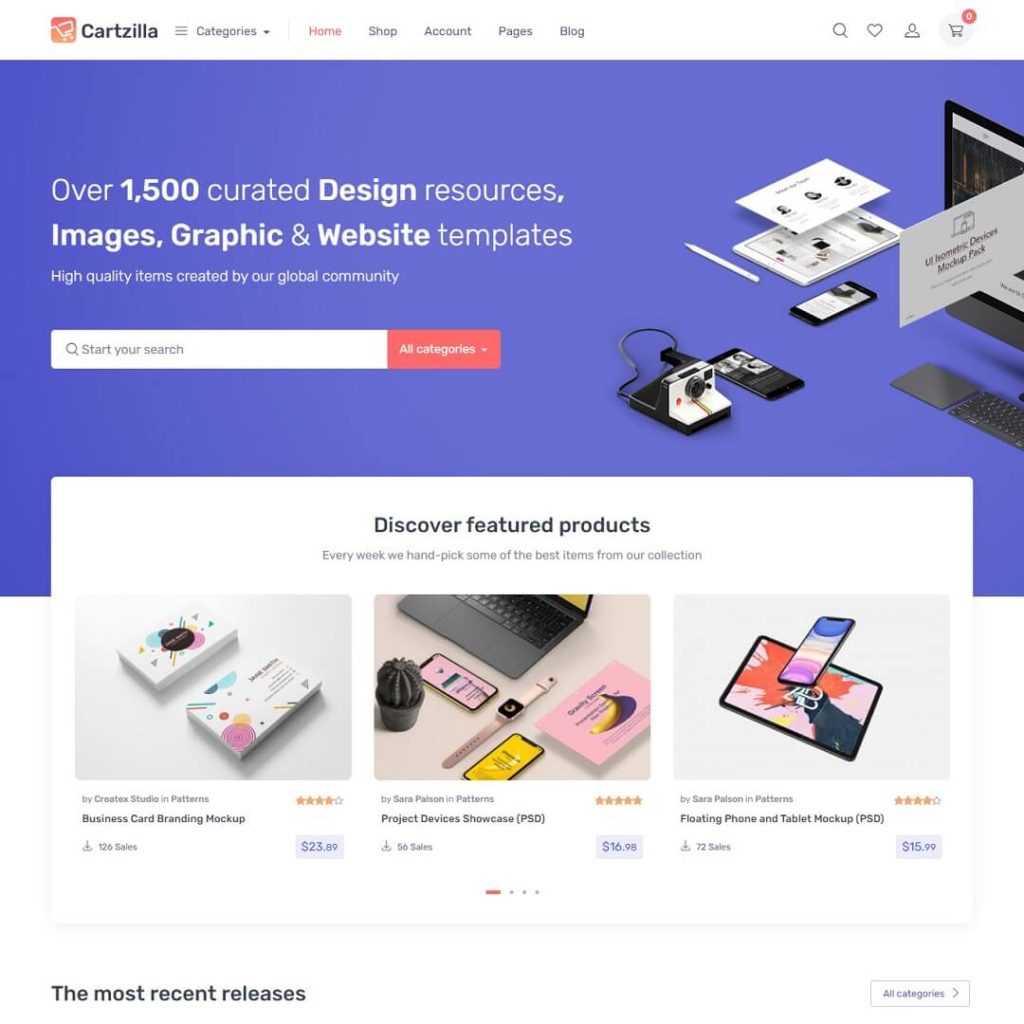 Cartzilla WordPress marketplace theme is also a wonderful theme for the Digital WooCommerce marketplace theme and Grocery Store. It contains Electronics Store, Fashion Store, and Help Centre demos in conjunction with the Digital Marketplace and Grocery Store demo. Its theme incorporates effortlessly with Dokan to offer multi-vendor features. The pages ensure a charming and pleasing user experience.
The home pages of Cartzilla WordPress marketplace theme are made by using native Gutenberg Blocks of WordPress and do not apply huge page builders. To customise the home pages, 30+ Gutenberg Blocks have been involved. Moreover, once the customer scrolls into view, the AJAX-based Product blocks appear. As a result, the WordPress marketplace theme loads very quickly; it is one of the fastest Digital WooCommerce marketplace themes available.
More info / Download
2. Tijarah | Digital Marketplace WooCommerce Theme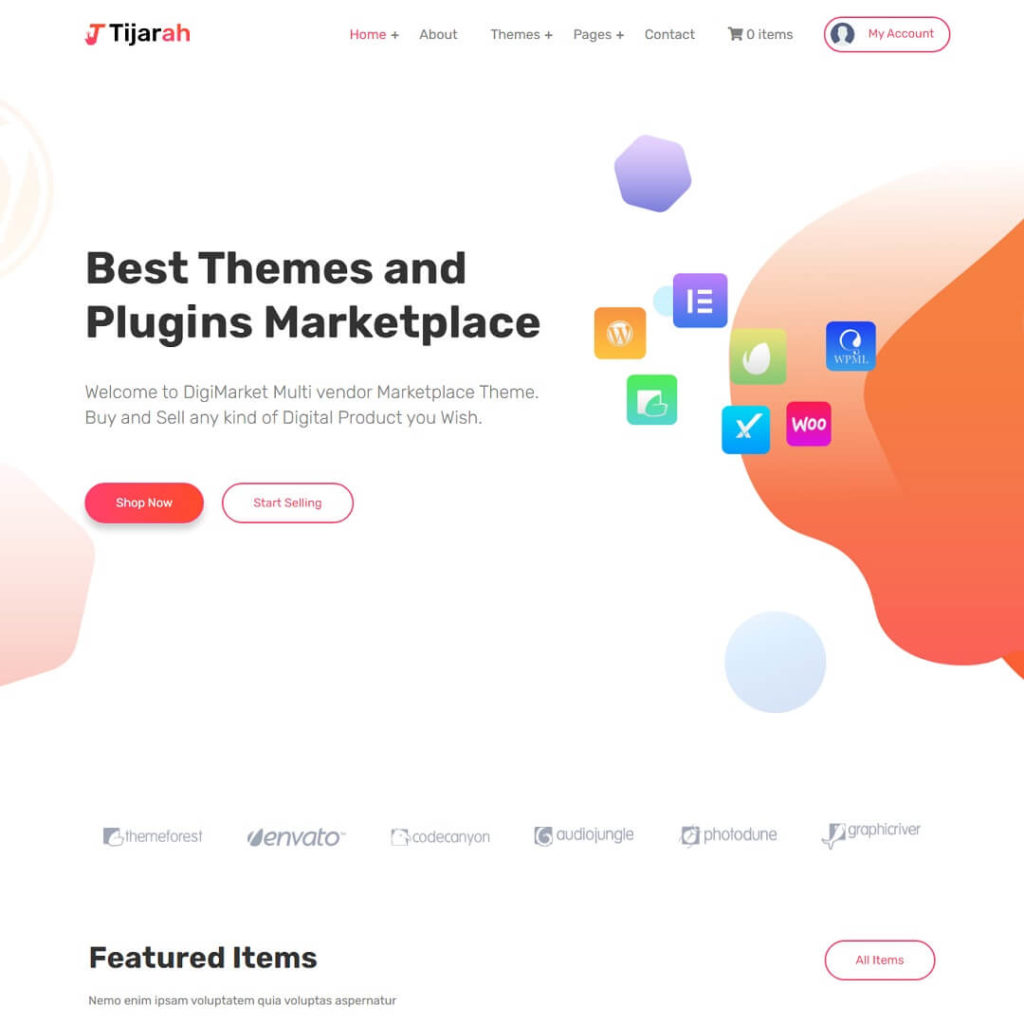 Tijarah is the vital WordPress WooCommerce marketplace theme to construct a virtual store or marketplace by using WooCommerce. It lets the sellers generate their own marketplaces like Amazon, CreativeMarket, Etsy, Themeforest, or eBay and it does not take more hours to set up the site and sell things.
Tijarah WordPress WooCommerce marketplace theme is the right choice if anyone wants to sell arts, music, themes, templates, stock footage, tutorials, ebooks, stock photography, digital services, Softwares, code snippets, or plugins.
The Tijarahmarketplace WordPress theme has great customisation and organisation for vending different sorts of digital goods as stated above. The Integrated Elementor Page builder permits the sellers to make their web pages swiftly and no coding needs to be known for this task. It is possible for the sellers to create a multi-vendor marketplace for others also where individuals can trade their own goods.
More info / Download
3. Pixefy | Multipurpose Photography Marketplace Theme + WCFM Plugin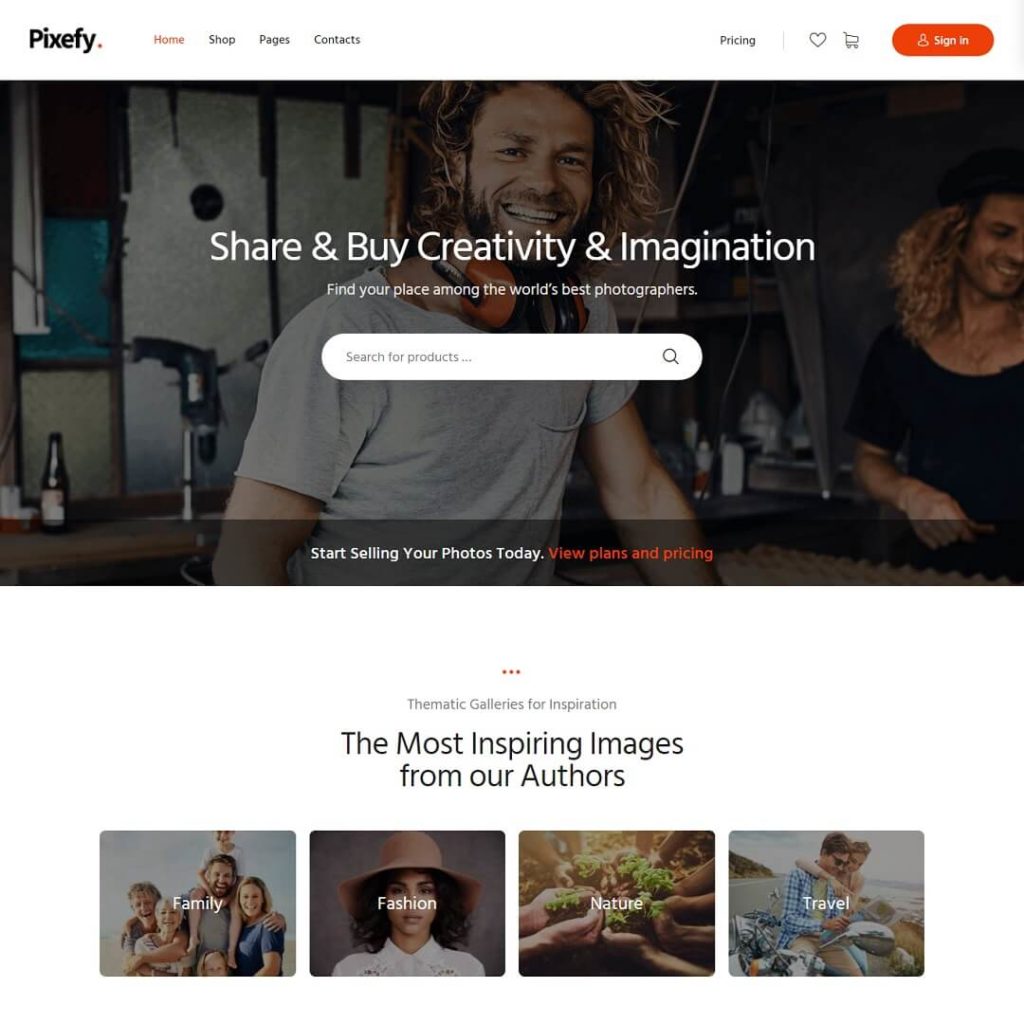 Pixefy WordPress marketplace theme is a receptive, sophisticated, different, and attractive Photo Stock and Photo Marketplace WordPress theme. It has a fresh and efficient design prepared for Photography Business, Stock Image Supply Store, or Picture Company.
It has solutions for the Film and Digital Processing requirements. Actually, the WordPress WooCommerce marketplace theme is most suitable for Photo Studio firms or Photo Lab services agencies. In addition, Pixefy WordPress digital marketplace theme can be fascinating for the photo camera blog, photographer agency, photo competition website, commercial printing house, or polygraphy.
Pixefy WordPress WooCommerce marketplace theme is totally harmonious with the modern version of WooCommerce to permit the sellers to make a virtual store for the photo equipment. The theme's spontaneous visual interface and explanatory design look pleasing on any stage as it is completely responsive and Retina ready.
Additionally, Pixefy is well-suited for a pack of premium plugins. They are- WooCommerce, Essential Grid, Elementor, Revolution Slider, and WPML. All these plugins make it easy for the sellers to set up and manage the Photo Stock marketplace site.
More info / Download
4. Victo – Digital MarketPlace WordPress Theme (Mobile Layouts Included)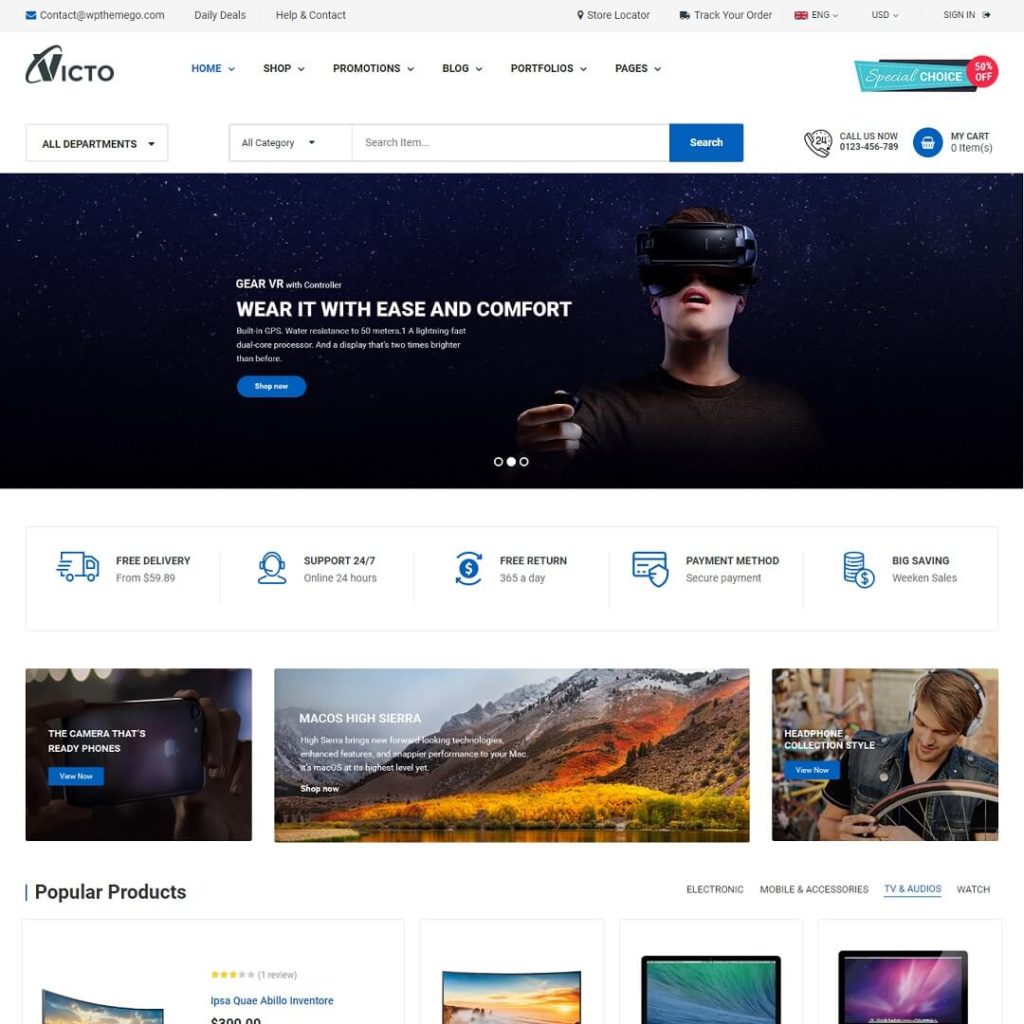 Victo WordPress digital marketplace theme has a clean and up-to-date design. It is meant for any virtual store or multi-vendor marketplace bsite particularly digital marketplace, hitech store, or electronics shop. It makes it so smooth and simple to create a multi-purpose marketplace website. Fortunately, Victo has several front-line features comprising mobile layouts ready, multi-home page designs, multi vendor support, etc.
Other WordPress WooCommerce marketplace themes support just responsive designs but Victo is made by both mobile-specific web designs and responsive layouts. Moreover, it has shop features, precisely planned and advanced for mobile devices.
Frankly speaking, it has become a trend of the virtual store this year as using and shopping via smartphones is growing fast! This WordPress WooCommerce marketplace theme is entirely harmonious with WC Vendors, WCFM MarketPlace, WC MarketPlace, Dokan MarketPlace. In other words, the best plugins can assist the sellers to turn their sites into multi-vendor eCommerce sites. Most significantly, the new One-click-Installation allows the seller to easily install his or her website in some clicks.
More info / Download
5. Makplus – Digital Marketplace WooCommerce Theme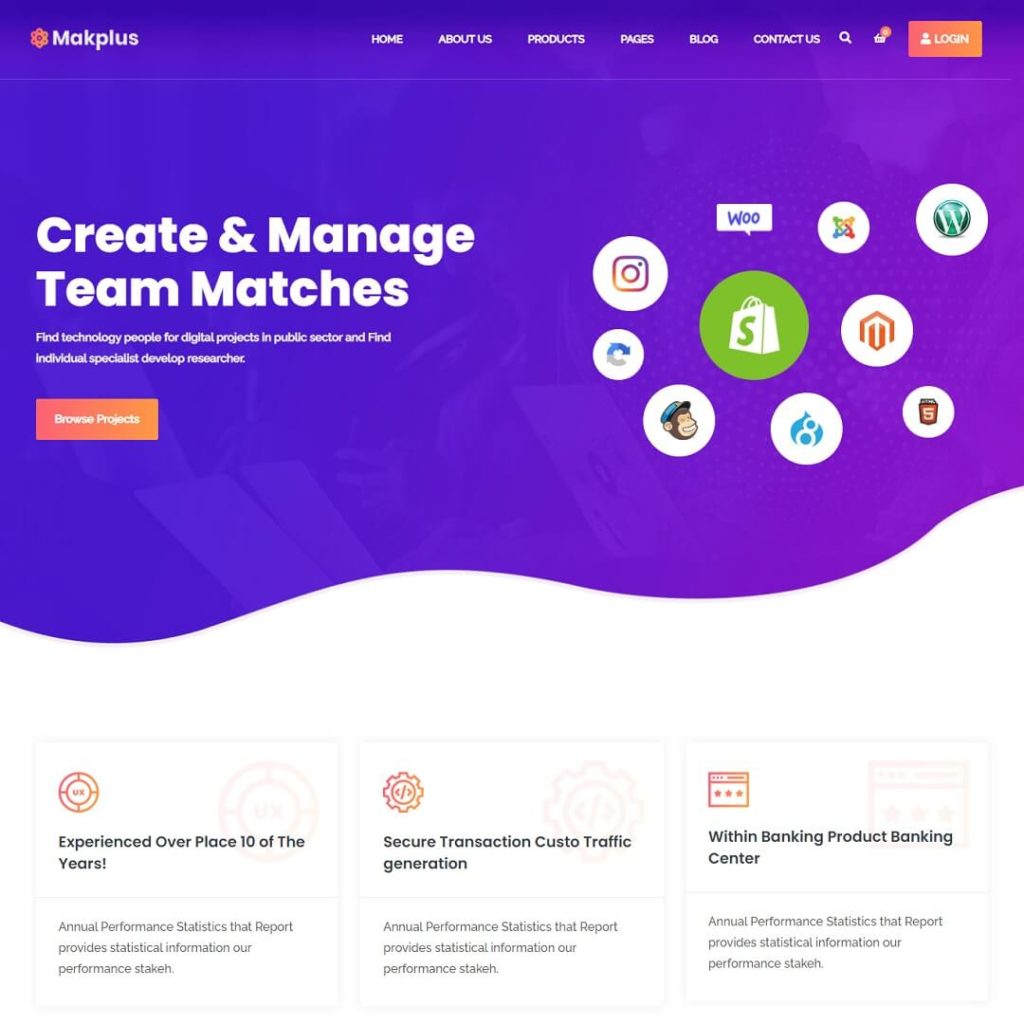 Another outstanding WordPress digital WooCommerce marketplace theme for the Digital Marketplace, Video Marketplace, and Photo Marketplace is Makplus. It contains 9+ prebuilt Home Pages based on modern technology with unlimited features. Anyone can make a virtual store or marketplace by using WooCommerce for their websites.
They can easily trade digital goods such as Softwares, apps, video clips, stock photos, themes, plugins, audio files, and so on. Certainly, Makplus WordPress WooCommerce marketplace theme is a marketplace that provides limitless opportunities. Here, all files are neatly organised. Besides, it is pretty easy to use as well as edit. Furthermore, it is very smooth to customise.
More info / Download
6. Tmexco – Digital Marketplace WooCommerce Marketplace Theme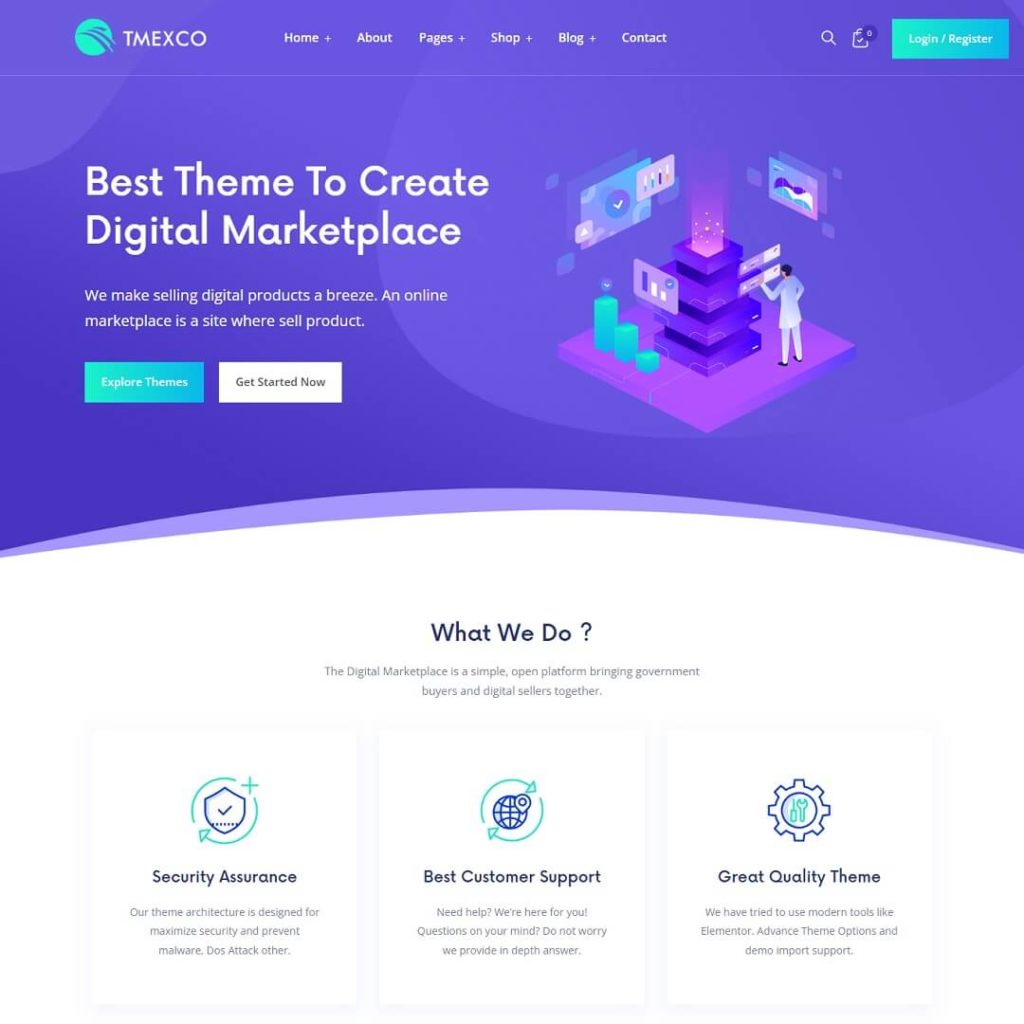 Tmexco is a Digital WordPress WooCommerce marketplace theme. It is modern, striking, and graceful. All the sections in it can be changed according to the sellers' wishes. Moreover, a customised option is available and each section is exclusive and creative. Its exceptional design and marvelous features make it extremely suitable for Digital Marketplace. Tmexco WordPress WooCommerce marketplace theme contains all the marketplace traits that need a Digital Marketplace site.
Most importantly, it appears great on desktops as well as mobile devices. In a word, it has smoothness and simplicity.
The Fresh and sophisticated design also offers awesome features like Featured Products, Latest Products, Single Product, Contact, Blog, Product Page, and Author Page. The current tools such as Elementor, Codestar Option Framework, Contact Form 7, One-click Demo Importer, and so on are used for building Tmexco.
More info / Download
7. Markite – Digital Marketplace WordPress Theme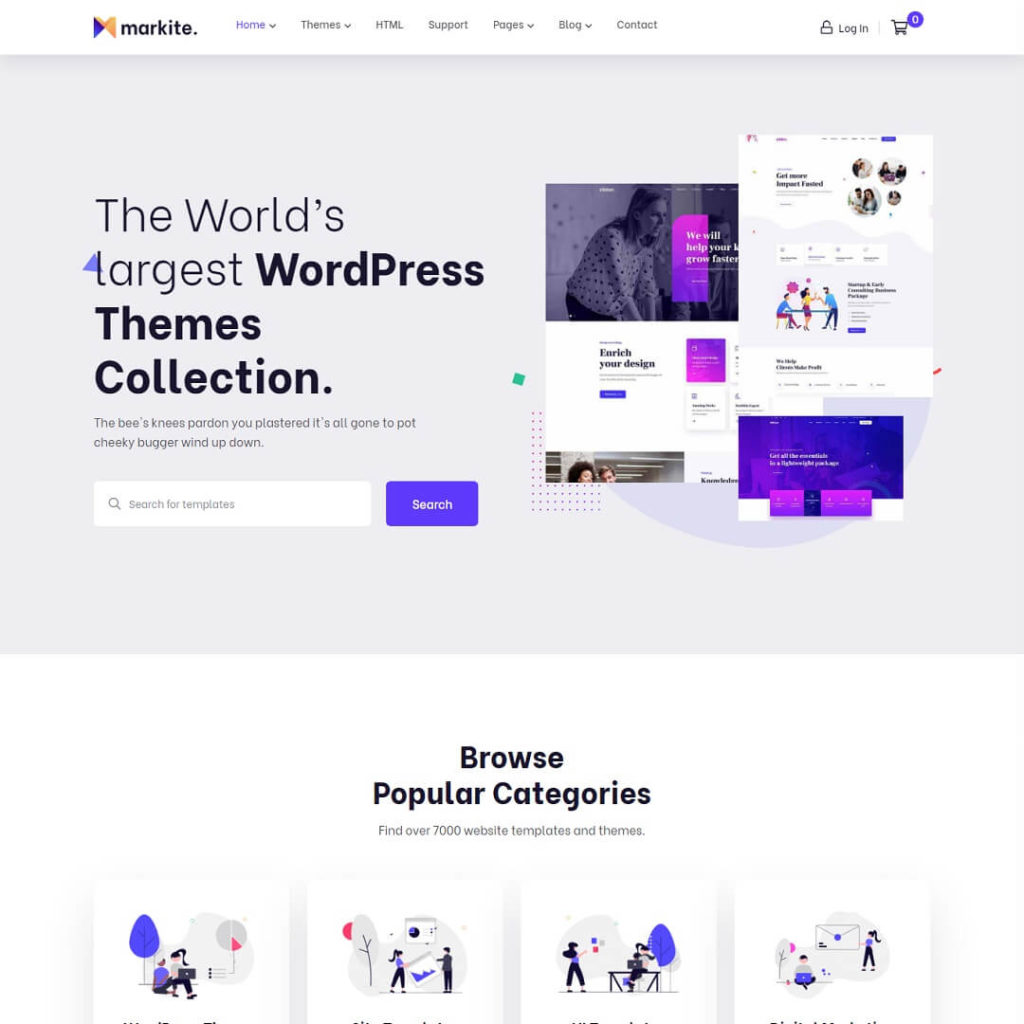 Markite is a wonderful digital product WordPress WooCommerce marketplace theme. It is one of the best platforms to trade digital goods, amenities, and others. It is made based on WordPress and the most popular WooCommerce plugin. Digital things such as plugins, music, themes, software, fonts files, stock photos, ebooks, and much more can be easily sold by using Markite WordPress WooCommerce marketplace theme. It can perform both Single and Multivendor activities.
The simple installation of the Dokan Multivendor plugin is enough to permit anyone to upload their digital products and trade them through the website. Notably, it has an exclusive and fresh design, which has its base on cutting-edge technology with abundant traits.
Interestingly, the most prevalent drag and drop page builder Elementor plugin lets you produce the web pages speedily and te knowledge of any code is not mandatory. Besides, Markite WordPress WooCommerce marketplace theme is greatly personalised and structured for marketing diverse sorts of digital merchandises. Only a single click is sufficient to install Markite. Moreover, the one-click demo importer has been used here.
Markite WordPress WooCommerce marketplace theme is so supple to use the colour of the brand and Google fonts. The sellers will find it rather easy to change their brand colours and fonts from the theme settings. They can also choose their sought-after demos for the marketplace from a variety of options and new demos and traits are being added daily.
It has 40+ premium quality exclusive Elementor addons, which can be used anywhere on the website. If the sellers use the rich features of Markite, then the marketplace will appear more vigorous and vivacious.
However, the accessible diverse import buttons for different varieties permit the sellers to individually import their anticipated demos. Furthermore, the theme is made and tested in every device and browser such as Internet Explorer, Chrome, Firefox, Safari and its performance is just awesome. It works amazingly well not only on computers but also on tablets and mobile devices. This WordPress digital WooCommerce marketplace theme is perfect for any seller because it surely maximises the number of visitors to the website.
More info / Download
8. Heilz – Digital Downloads & Marketplace WordPress Theme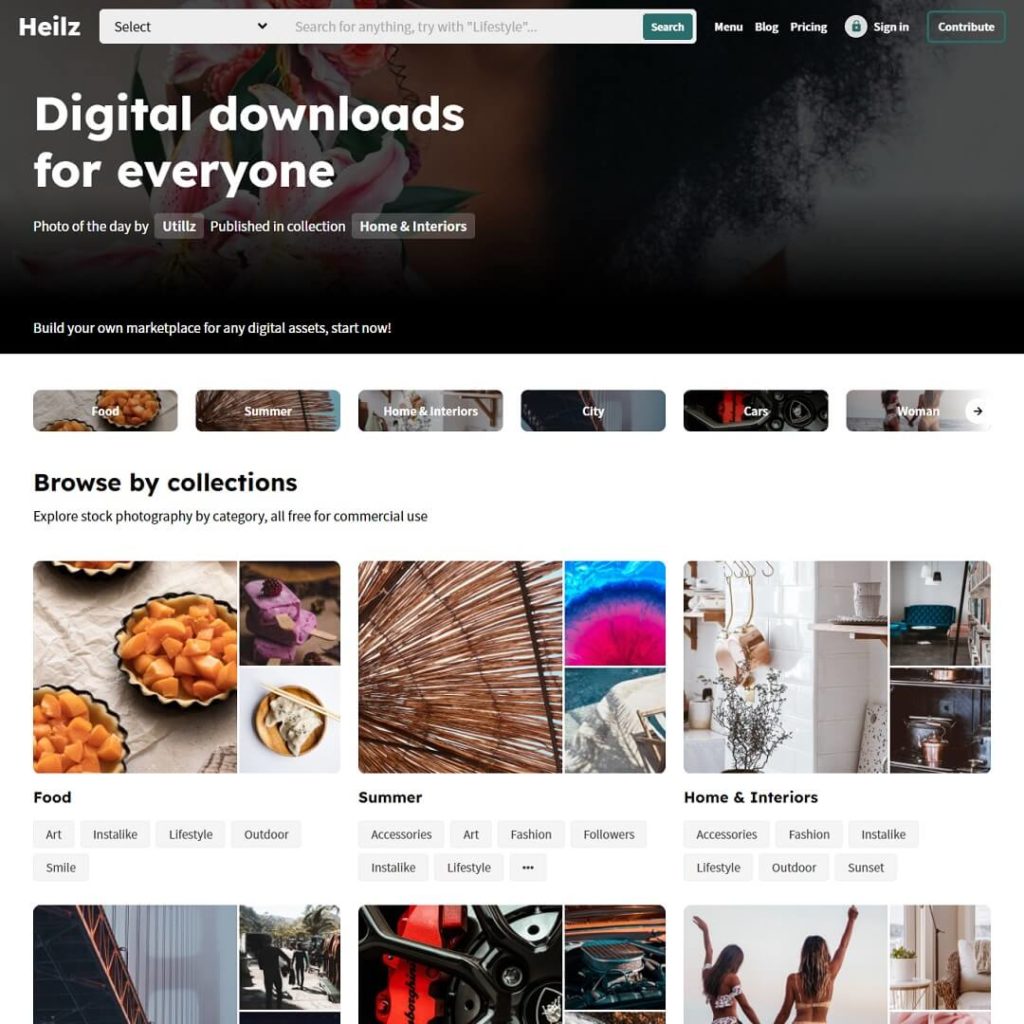 Another striking WordPress marketplace theme is Heilz. It is established carefully for all creative individuals who are looking forward to selling digital possessions on their sites. It is put up specially to work with the WooCommerce plugin.
This WordPress marketplace theme will support the sellers to sell Software, graphics, logos, icons and fonts, plugins, e-books, themes, stock images, templates, audio or video, etc. Nonetheless, it deserves mentioning that the theme is appropriate for each photography, small freelancer, portfolio, or agency website. The theme carries an easy-to-use back-end, the design is simple and contemporary, and the outline is wholly responsive.
More info / Download